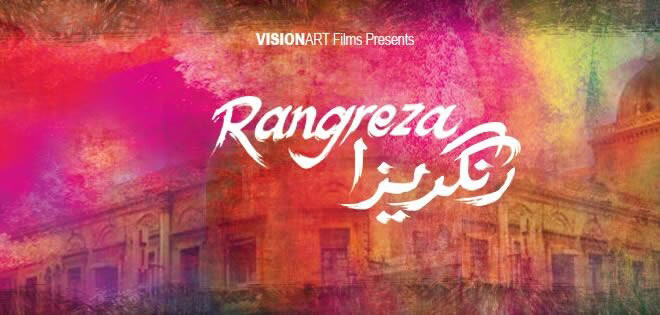 Tuesday 13th June, London, UK –
As part of an innovative marketing strategy, the teaser for the much-hyped Pakistani love story, Rangreza, was launched on Sky Sports during the ICC Champions Trophy match between India and Pakistan. Overnight, the teaser has gained a phenomenal response from audiences, as the buzz has been initiated around one of 2017's most anticipated Pakistani film releases, presented by Munir Hussain Films, the makers of the 2016 blockbuster hit, Janaan, which garnered both critical acclaim and commercial success globally. Rangreza is now set to break a new record number of countries as part of its worldwide distribution strategy, establishing a whole new benchmark for Pakistani cinema on a global platform.
Rangreza is a musical romance directed by Aamir Mohiuddin, featuring Gohar Rasheed, Bilal Ashraf, Urwa Hocane and Saleem Meraj in the principal cast. Musical legend, Abida Parveen, features prominently on the soundtrack, composed by the film's writer, Akhtar Qayyum. The film is presented by Vision Art Films, Usman Malkani Films, Distribution Club (Pvt) Ltd, Munir Hussain Films UK and Pepe's Piri Piri and will be distributed worldwide except Pakistan by B4U Motion Pictures.

Munir Hussain, Head of Munir Hussain Films UK says, "I am very excited to bring another highly anticipated film, which will showcase the growing strength of Pakistani cinema. We have some creative plans in place for the release and we are grateful to Mr. Sunil Shah and B4U for their excellent support and guidance.
Sunil Shah, Head of Film Division, B4U Motion Pictures says, "We are delighted to be further cementing our great partnership with Munir Hussain Films UK with the release of Rangreza. Munir Hussain has such a pioneering and passionate vision for taking Pakistani cinema global and we are honoured to be working together to present Rangreza across a record number of international territories. We are also delighted to be collaborating with Amjad Rashid Saab of IMGC Global as part of a long-term relationship for production and distribution opportunities in Pakistan."
Watch the Rangreza teaser here: