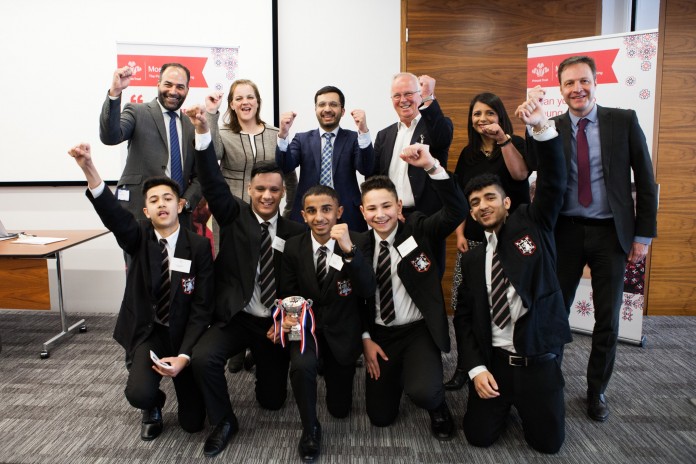 A team of young entrepreneurs from Hodge Hill College in Birmingham has won the West Midlands Regional Final of the 2017 Enterprise Challenge competition, a flagship education initiative driven by Mosaic, HRH The Prince of Wales' mentoring charity and part of The Prince's Trust.
'Team Low Cost Compost' beat stiff competition from teams from Grace Academy Solihull, Harborne Academy, Kings Heath Boys and Perry Beeches IV The Free School, with their for reducing school waste by turning it into compost, and using the compost to grow vegetables, both of which will then be sold to the school and local community. All finalists had beaten hundreds of students from other schools across the region to reach the final.
The competing teams pitched their ideas in a Dragons' Den-style event to a prestigious panel of judges, including Varinder Dhaliwal, Managing Director of We-Q Collaborative Intelligence, Katherine Latham, Director, Corporate Finance and Analytics at Jaguar Land Rover, Katy Hanby, Student Attraction and Outreach Officer at KPMG and Nick Venning, former Marketing Director of Global Industries at PwC.
Team Low Cost Compost will now progress to the Enterprise Challenge Grand Final in London on 17th May where they will compete against winning schools from the North West, South East, London, Yorkshire and Scotland for the chance to become national champions.
The overall winning team will win a prize of £2,500 for their school plus a further £500 to invest in developing their business idea and making it a commercial reality. Previous winners have also enjoyed tea at 10 Downing Street and a unique tour of Clarence House.
The pupils from Team Low Cost Compost said: "We would like to say thank you to the four mentors who have supported us throughout the Enterprise Challenge. Our team have worked every break, lunch time and after school and the proof is in the pudding!"
The keynote speaker for the event was Saqib Bhatti, President of the Asian Business Chamber of Commerce. He said: "It makes me so proud to see the entrepreneurial future of Birmingham alive with Team Low Cost Compost from Hodge Hill College. The Enterprise Challenge competition keeps going from strength to strength, and despite my long career in business, it was me who was inspired! I hope they bring the Enterprise Challenge crown home to the West Midlands!"
Katherine Latham, Director, Corporate Finance and Analytics at Jaguar Land Rover and Chairman of Judges, said: "It was my first time as a judge with the Enterprise Challenge competition, and if I'm honest, I hadn't expected it to be so difficult! The talent on show from the students was of the highest level, which made our jobs that much harder. But Team Low Cost Compost were exceptional and worthy winners, and I'm sure they will do the West Midlands proud in the Grand Finals!"
Becky Mitchell, Mosaic's West Midlands Regional Manager, said: "I was so impressed by all the teams competing in this year's final. It was a close call but credit has to go to Team Low Cost Compost. A special thank you must go to our team of volunteer mentors who give up their time to coach, support and inspire the pupils taking part."
Run annually, Mosaic's Enterprise Challenge is a national competition that aims to inspire knowledge, raise aspirations, confidence, self-efficacy and long-term employability among secondary school pupils from some of the most deprived communities across the UK. Supported by specialist, volunteer mentors from across the business community, students compete for six-weeks in an online business game where they must develop, market and sell a new product.
For more information on Mosaic, visit www.mosaicnetwork.co.uk, email mosaic@princes-trust.org.uk or call +44 (0)203 222 5913.