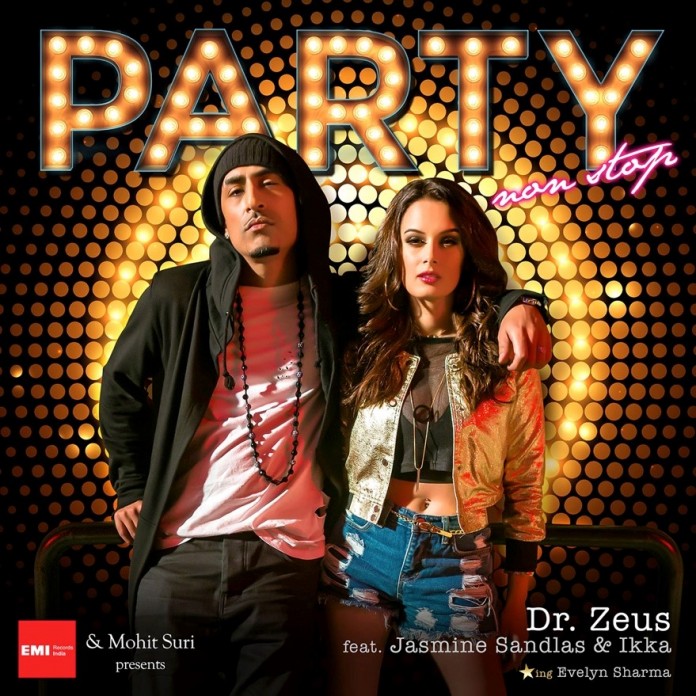 Award winning Music Producer Baljit Singh Padam, known universally as Dr Zeus, has made a mark on the Bollywood & Punjabi music scene with a string of massive hits including "Baby Doll", "Kangna", "Lovely" and "Don't Be Shy" to name a few.
Today Dr. Zeus drops his brand new song "Party Non Stop," featuring his vocals for the first time along with the sensational singer Jasmine Sandlas and rapper Ikka.
The song is released worldwide through EMI RECORDS INDIA – an association between MOHIT SURI and Universal Music India. You can catch the first play of the song exclusively on Radio City, the official radio partner for the release.
Dr. Zeus has infused the rustic vocals of Jasmine Sandlas and the swag of rapper Ikka over a slick beat tuning it into a contemporary club banger that's set to become this summer's PARTY anthem!
Directed by upcoming film maker Arif khan, the enthralling music video for the track features the gorgeous Bollywood actress Evelyn Sharma, who's seen partying on a playful night of nonstop fun, dance and entertainment against the backdrop of the song's infectious rhythm. From a warehouse to a party by the pool, the video is a vibrant piece of work.
Watch the Video here:
"It's great to have Dr Zeus on board, he's done some incredible work in the past and we instantly fell in love with this track when we heard it. Combining his influences from his Punjabi background with urban & pop music, the track will definitely appeal to a wider audience," says Mohit Suri, on the new release from EMI Records India.
Dr. Zeus added: "I'm so excited to finally reveal this amazing track we've been working on. Jasmine's voice & Ikka's rap adds a perfect edge and character to the track with the uplifting beats. We had a great time shooting the video with Evelyn Sharma and I'm hoping it becomes this generation's dance party song".
Devraj Sanyal Managing Director and CEO, Universal Music Group, India & South Asia, says: "I'm super proud to release this phenomenal track from our very own EMI records India with the uber talented UK based producer Dr Zeus. The collaborative effort between Zeus, Jasmine Sandlas & Ikka is surely going to be a chart topper this summer.
"Our partner Mohit Suri has been an instrumental part of this whole journey with us & we're elated to finally reveal this summer's party anthem."
Known as one of the most influential artist in the Punjabi Music scene, Dr. Zeus has achieved huge success in his long and illustrious career. He gained stardom in India in late 2003 with his hit song "Kangna," following which he has become a popular name all over the world. Starting in 1999, Dr. Zeus produced the remix album "Pure Garage – Sue My Ass" before following up with "Death Jamm" series of mixes.
Throughout his 18-year long recording career, Dr. Zeus has released more than thirty anthems including massive Bollywood hits 'Baby Doll' (Ragini MMS 2, 'Lovely' (Happy New Year), 'Don't be shy', 'Mitran De Boot' 'Jugni Ji' and the smash hit 'Kangna'. Each of his tracks offers a constantly evolving sound and are a regular feature across all media platforms.
"Party Non Stop" is available across all digital platforms Worldwide exclusively on EMI RECORDS INDIA.