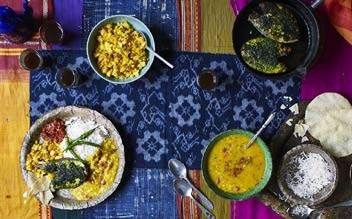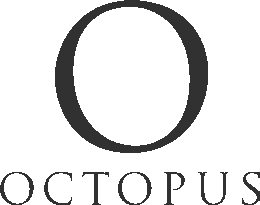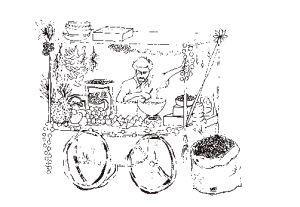 By  Chetna Makan
Following publication of the critically acclaimed The Cardamom Trail in April 2016, Makan's new book, Chai, Chaat & Chutney: A Street Food Journey Through India is an ode to Chetna's travels through India and the incredible food she discovered on the way.
Proving that she is more than just a baker, Chetna Makan has travelled to the four corners of India – Mumbai, Kolkata, Delhi and Chennai – sampling the varieties of street food on offer. Each area has subtle differences in ingredients and techniques, making the local cuisine completely unique and full of character.
In Chai, Chaat & Chutney, Chetna has taken inspiration from the street and created delicious recipes that are  simple to cook at home. The result is a completely fresh take on Indian cuisine – try Tamarind Stuffed Chillis and Sticky Bombay Chicken from the South or let your senses venture to the North for Pani Puri and Cardamom & Pistachio Kulfi.
"Street food is a huge and important part of India's food culture. I love the fact that it is such a leveller – no matter what your background might be, standing at a popular street stall next to the other customers, you are all simply people enjoying the food. Most street food is freshly prepared to order, served very quickly and, best of all, extremely cheap.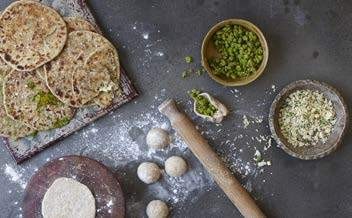 "Not only can you buy snacks and light dishes to keep you going, but you will also  find on offer amazing meals, complete with a variety of flavours and components. And, yes – there are also sweets to enjoy!"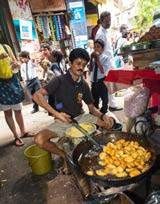 Chetna's book takes you on a journey in each chapter to four of the most popular and diverse cities in India. The pages are filled with stunning travel photography and interspersed with personal stories and explanations of the nuances of each area, and each dish.
This book firmly positions Chetna as an authority on modern Indian cuisine, as she gently uses everything in her power to bring this simple yet inspirational food to the masses.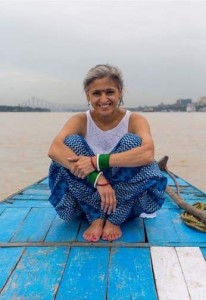 About the Author
Chetna Makan was born in Jabalpur, an ancient city  in Central India. She  has a degree in fashion and worked in Mumbai as a fashion designer before moving to the UK in 2003. Chetna reached the semi-final of The Great British Bake  Off in 2014, and her first book,
The Cardamom Trail, was a celebration of baking with Indian flavours. She  has a very popular YouTube channel 'Food  with Chetna' where she shares her creative flair for food, collaborating regularly with Jamie Oliver's FoodTube.
For more information please contact
Saskia Sidey on saskia.sidey@octopusbooks.co.uk or 020  3122 7435
Siobhan McDermott on siobhan.mcdermott@octopusbooks.co.uk or 020  3122 7110