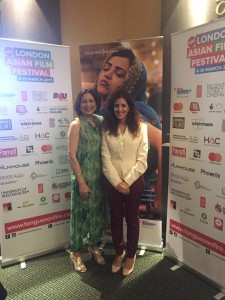 "Memories beyond borders" – this was the theme that introduced the 2017 London Asian Film Festival at Regent Street Cinema last week. The Tongues on Fire UK Asian Film Festival each year aims to celebrate independent cinema from across the globe that envelopes powerful social messages. Now in its 19th year, with festivals across Leicester and Edinburgh, it coincides with India celebrating 70 years of Independence.
This year's Opening Gala began with the screening of Mango Dreams starring Ram Gopal Bajaj and Pankaj Tripathi. Written and directed by John Upchurch, the film follows the journey of Indian resident Dr Amit Singh, a post partition child witness, to return to a place he once called home. As dementia begins to creep into his everyday routine, he fights to hold on to the precious memories of his childhood. With the aid of Salim, a Muslim rickshaw driver, who is indebted to him for once saving his young son's life, they begin their route using Dr Singh's distinct landmark memories as navigation. The sensitivity around the subject of dementia, cleverly carves out that memory loss as an illness can't always erase those memories which forms part of an individual's spirit.
The journey, which is far from smooth sailing, invites us to witness a beautiful friendship develop between two distinct individuals who have endured parallel pain as a result of religious exploitation to satisfy political hunger. The film depicts a sense of unity and importance of tolerance and respect of beliefs other than our own. Within this sincere narrative, we are reminded that this story is one that has a universal resonance on the catastrophic impact of enforcing nationalism to the extreme.
I was fortunate to meet writer and director John Upchurch just before the screening of the film to expand on his views on how the film would be received.
Are commercial films doing enough to highlight the nationalist views that still exist across the world?
"No I don't think so. Conflict, we are taught, is entertaining to people. With that being a motive, it's hard to get films like Mango Dreams out into the mainstream commercial world of cinema as it contradicts the message that has been relayed to the masses. Even if there are other festivals that support films such as Mango Dreams, there is still nervousness about putting a film out there because there may be a large population who disagree."
Do you feel that you could be open to criticism as a non-South Asian writer and director?
"What I have tried to do with Mango Dreams is not be too direct. A lot of people will say 'What does a white guy living in North Carolina know about India and Pakistan.' The thing is that these are universal problems that are happening all around the world now. There is India and Pakistan, there is Palestine and Israel, and there is Mexico and the USA right now, and of course Britain and the rest of the EU. These are universal ideas and the film is my view as a human being."
For more information on the all the events for this year's London Asian Film Festival please visit www.tonguesonfire.com