Barry Cheema is Birmingham's very own version of Usain Bolt, or so he hopes to be. He aims to beat the King of sprinting's Rio medal haul in 2017.
Cheema refers to himself as Usingh Bolt when entering any marathon and is now hoping to have won 30 medals by the time he completes the inaugural Birmingham International Marathon next year.
The 40 year old, who resides in Walsall, is hoping to run 10 half marathons and 10 10ks in 2017, as part of a fundraising mission for the Stroke Association.
Cheema's childhood friend, Neil Thompson, passed away last year from a stroke and is also the reason behind why Cheema is participating in the event. Any medals that he wins for the events will be dedicated to his dear late friend.
The Great Birmingham Run still has 11 months left until the event takes place, yet is already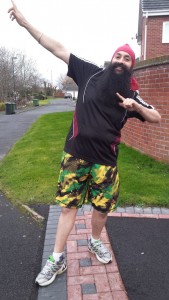 the UK's 6th largest 26.2 mile run with 5000 people having already signed up to it. Alexander Stadium will be the starting point and other iconic sights such as Villa Park, Selfridges and Edgbaston Cricket Ground will be along the way, with the finishing stop being at Millennium Point.
Using the identity of Usingh Bolt helps Barry with raising the profile of the causes that he runs for. Dressing in a beanie hat with dreadlocks and Bolts green and yellow shorts, he is confident that he would be able to break Usain's record breaking time.
Although he is competitive, Barry would also love to meet the man who is helping him in raising awareness for people who suffer from strokes.
He says, 'Denise Lewis is the most famous athlete I've met and I'd love to meet the great man himself. I think he'd have a laugh about Usingh.
'I get cheers when spectators realise who I'm running as, and quite a few fellow runners ask for a photo with me. It's great fun.
'I probably run further than Usain in one marathon than he ever has in a year. I reckon I would have a chance of beating him – but only over 26.2 miles!
'While he does 100m in under ten seconds, I can maintain a ten-minute mile pace on a good day.'
Barry  also hopes to inspire more members of the Asian community to get active.