Anaesh Patel, Walsall cricketer, has done himself, his family and the West Midlands proud by winning the National Cricket Spin Competition at the esteemed Leicestershire County Cricket Club. Anaesh, from Walsall, span his way to the top and is just one of  three to have bagged an all expenses paid trip for a one week long scholarship in Mumbai. The competition was sponsored by Southhall Travel and the Club Cricket Conference. As part of the competition Anaesh and the other cricketing  hopefuls were made to undergo assessment by England Test Cricketer Kabir Ali and Jigger Naik, Leicestershire CC. The scholarship will see the 21-year-old Maths graduate mentored in honing his cricket talents.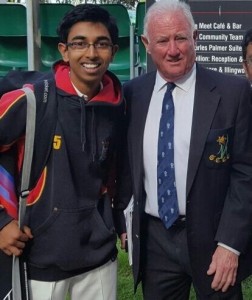 Anaesh said: "I am over the moon to have won the award, especially as it was a National competition. I am really looking forward to visiting India and gaining further experience on sub-continent pitches.
"I would like to thank to my bowling coach Kevin Lyons (Glamorgan CCC) and batting coach Ron Headley (WI Test Cricketer) for the many hours they have spent developing my bowling/ batting skills. I would also like to thank Cardiff Cricket Club for giving me the opportunity to play in the South Wales Premier League. It goes without saying that without the support of my parents this victory would not have been possible."
Interview
How did you first get into cricket?
I first got introduced to cricket as a 5-year-old watching cricket on TV with my cricket crazy Dad. He also took me to see a couple of World Cup Games in 1999 and I loved watching Tendulkar bat and Warne bowl. I also started to play cricket in the house with a plastic bat and tennis ball which usually ended up in damaging some of the house ornaments. (Mum was not a happy bunny). I also started to spin the ball in the house and that was my first introduction to spin bowling.
Initially I wanted to be a batsman but soon noticed that I could turn the ball so I was encouraged to bowl leg spin and never looked back. I realised that leg spin conjures up magic and is very enchanting to watch. It can make a batsmen look foolish when they go down charging down the track and the ball spins away from them. The leg-spinner has several options to fox a batsmen but requires a lot hard work to master the different types of deliveries. I can bowl the googly, top spinner, flipper and stock ball.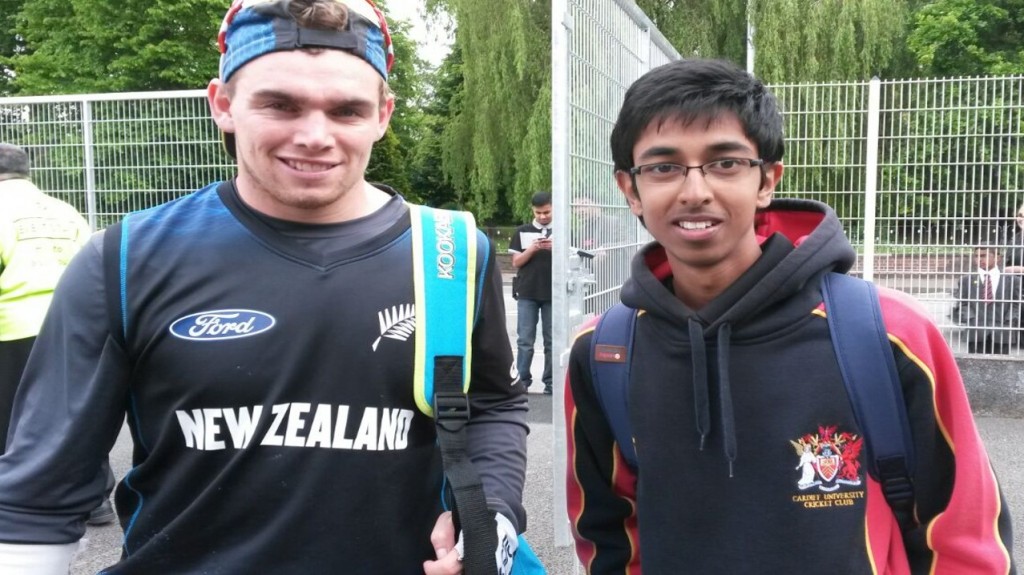 What was it like to win the coveted scholarship out of the entire nation?
When I heard that I had won the competition, I was speechless.  I just couldn't believe it that I had won. It was totally surreal and I'm really looking forward to going to India. I was so happy for my parents because all the support and the money they had spent on my cricket had been worth it and I had made them proud. All those early morning runs in those cold wintery months and cricket training sessions over the last 15 years had paid off.
How was the training under Kabir Ali?
It was great to talk to an England cricketer because the knowledge he offered me to improve my game was invaluable, especially on field placings, bowling googly and where to pitch the ball. I also learnt a lot about the importance of mental strength. Just by listening to Kabir improved my bowling by 10%-15%. I am very grateful to Kabir for helping me.
What are your own personal tips on spin?
It important to spin the ball and always make the batsman drive.
Have confidence in your bowling and skill levels
Experiment different types of bowling grips in training sessions
Never give up, keep trying and opportunity is only a ball away
Always remember top class spinners mature late in their career. This is because it requires a lot of sustained practice/patience to master art of leg spin.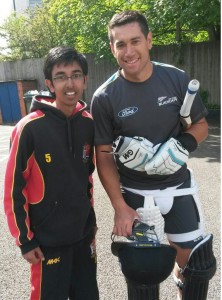 Between now and going to Mumbai, are you doing anything to prepare?

I will be honing my bowling and batting skills with my Coach – Ron Headley (West Indies & Worcestershire CCC) and Kevin Lyons (Glamorgan CCC). I have already joined a local gym to work on my physical fitness levels as this is so important these days. I have also started to do research on the Indian bowling surfaces.
Could you see yourself having a career in cricket?
Why not, hopefully I will always keep challenging myself to achieve the next level. I am 100% committed to what I do. I am currently studying for MSc in Risk Management as my back up plan. I am fairly confident that if I keep up with my current training schedule, an opportunity will arrive and when it does, I will grab it with both of my hands.
The most important thing is the support I have received from my parents, family, friends and my coaching staff. They have all been incredible! What I do know is that with leg-spin once mastered, the success is there for the taking. Hopefully it will open new doors for me especially in 'International Cricket.'