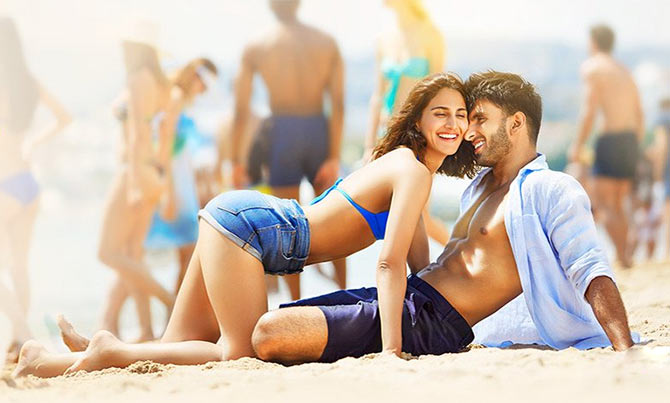 It's an occasion that brought together a slice of history and quality cinema for the first time ever. Yash Raj Films has unveiled the trailer of its breezy, new age romance Befikre at the global symbol of love, the Eiffel Tower. A beautiful evening soaked in the flavours of Paris, this Befikre moment became a dual celebration for both Indians and the French. Conceived and visualized in this historic capital, this Aditya Chopra film is a true Indo-French creative partnership. In more ways than one, Befikre sets a new benchmark.
At the onset of this evening, the Mayor of Paris, Mme Anne Hidalgo spoke about a marriage of cultures with the process of making Befikre in Paris.
Speaking at the event she said, "I thank the director of Befikre, Aditya Chopra and the film's production team for choosing Paris for their film. The Eiffel Tower is the most visited monument in our city by Indian tourists. With this film, Indians and audiences will get to see monuments and sights of the city like Monmartre, Pont Naf, Trocadero and many more. I am also very proud that this film has shot in the library of the City Hall. I sincerely hope this will encourage many Indians to come to your city and visit these places. I am honoured that the biggest film production company, Yash Raj Films, chose to shoot this film here in Paris."
Ranveer Singh and Vaani Kapoor, the stars of this project, infused the event with positive energy, charm and Bollywood's own brand of cinema glamour. Getting hordes of fans and attendees up on their feet in the much-celebrated Gustave salon, Ranveer Singh said, "Just when we were prepped and ready to begin shooting for Befikre, in November last year, the 13/11 Saint Denis terror attacks hit the city. There was some nervousness about the feasibility of shooting in Paris, with some advising Adi sir to shift to another city. But having conceived the film entirely in Paris and laced with its inherent spirit of Joie De Vivre, he decided to shoot here. In a manner, Befikre advocates the typical Parisian spirit of living carefree, and he thought that standing by this idea was very important, in the wake of such aggression. Once we did begin shooting in Paris for this fresh, young at heart love story, we got so much love and such a warm reception from the crew, city authorities and the people. We were overwhelmed."
Set in Paris, Befikre is a free spirited, contemporary love story of Dharam and Shyra, who find love in an impulsive, engaging series of experiences. Doused in the spirit of Paris, it celebrates love-sensual, carefree and focused on living life to the fullest.
Directed by Aditya Chopra, Befikre releases on 9th December 2016.