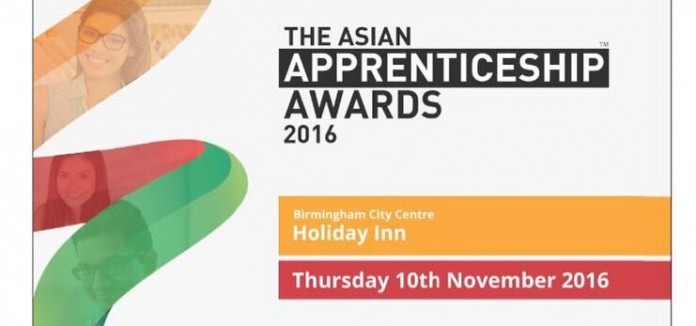 The shortlist for the Asian Apprenticeship Awards is out! Some of the awards include Engineering and Manufacturing, Construction Employer & Apprentice and the highly coveted Apprentice of the Year.
The aim of the awards is to "showcase the range of talent and hard work within the BME." Safaraz Ali, the found of the event, says:
"I'm delighted to be leading on this event for such a worthwhile cause…I believe our efforts will help towards the government's 3 million apprenticeship targets as well as the BME 2020 plan, particularly in increasing awareness and thereby contributing to an increase in the proportion of apprenticeships taken up by young people from BME backgrounds towards the 20% target."
Good luck to all the finalists!
For the Full Shortlist see below:
Financial, Legal and Professional Services 
Kam Penglin (Babington)
Naveed Mahmood (B4U Telecom)
Sairah Nawaz (North Lancashire)
Construction Employer & Apprentice (Sponsored by Bradford College/City Training Services)
Muzamal Ishfaq (Ash's Plumbing & Heating)
Rupinder Kooner (WSP Pasrons Brinckerhoff)
Zaeem Farouqi (NG Bailey)
Health, Medical and Social Care
Alisha Tariq (Gordon Franks Training)
Modi Nossack (Care Tech)
Nazneen Shah (CareTech)
Charity, Voluntary Organisations and Public Services
Laila Batool (Barnados)
Saeed Amin (Sheffield City Council)
Shamima Miah (St Wilfrid's Academy)
Engineering and Manufacturing (Sponsored by: AWAN International)
Aamir Adam (Siemens)
Heeran Basi (Severn Trent Water)
Sanna Shabir (Atkins Global)
Creative and Digital
Divya Hansora (CSL DualCom)
Liam Patel (Pet XI)
Lubna Suleman (Creative Alliance)
Retail, Hospitality and Tourism
Jessica Mehta (Chop & Wok Limited)
Mohammed Fahad (Middlesex County Cricket)
Omar Zamir (ELDS Blackburn)
Apprentice Of The Year
To Be Announced On The Night
As well as the apprenticeships,  the awards also pay due credit to the apprentices giving their new career their all. The Employee Shortlist has also been released and is as follows:
Financial, Legal and Professional Services
Barclays Plc
KPMG
NA Accounting
Construction (Sponsored by: Bradford College/ City Training Services)
AH Building Home Service
NG Bailey
WSP – Parsons Brinckerhoff
Engineering and Manufacturing (Sponsored by: AWAN International)
Hammerton Auto's
Siemens
Severn Trent Water
Health, Medical and Social Care 
Care Tech
Linnaeus Group Ltd
Park View Care Home
Retail, Hospitality and Tourism
Al Murad
Chaudhry Travel
Aztec Interiors
Creative and Digital
Asian World Media Group
CSL DualCom
Expressive Design
Charity, Voluntary Organisations and Public Services
Barnados
ELDS Blackburn
Sheffield Council
Other Awards Nominations Shortlist
Large Business of the Year (Sponsored by World of Learning)
AH Building Home Services LTD
Barclays
Care Tech
KPMG
Severn Trent
Siemens
Sulzer
WDP- Parsons Brinckerhoff
School of Academy of the Year
Hall Green Secondary School
Leicester International School
Washwood Heath Academy
Learning Provider of the Year (Sponsored by AELP)
Aspire Achieve Advance (3aaa)
Nova Training
Woodspeen Training
Small Medium Enterprise (Sponsored by Severn Trent Water)
Al Murad
Asian World Media Group
Aztec Interiors
CAE
Chaudhry Travel
CSL DualCom
Expressive Design
Hammerton Auto's
Linnaeus Group LTD
NA Accounting
Park View Care Homes
Overall Contribution to Apprenticeships 
To Be Announced on the night