Three computing students have developed the advanced R2U Road to University app, after huge inspiration from their course lecturers, which they are eager to make a commercial success.
Inventors Kieran Dee, Josh Oakley and Mukesh Jassal have designed the app to estimate figures of UCAS points from students' current grades, and to accumulate a list of matching universities.
A lot of interest has already been shown in the app by other colleges who are exploring the option of utilising it for their own students' university research.
Kieran, who has an unconditional offer from Birmingham City University to study computer science, said: "This experience of live project work has given me a head start on my degree."
Mukesh also has an offer from BCU and Josh is hoping to get an Apprenticeship with BT.
The students formed a design team, arranging committee consultations every week and concocting flow charts. They also had to acquire new languages, including Java in order to create their app.
Lecturer Raj Patel said: "They've done exceptionally well. This is a commercially viable app which could easily be marketed to other students."
Fashion students have also produced final collections with jazzy edges by crafting accessories in the college's Fab Lab, which is a new digital fabrication laboratory.
They laser-cut white flowers and red roses, and added chains to produce jewellery.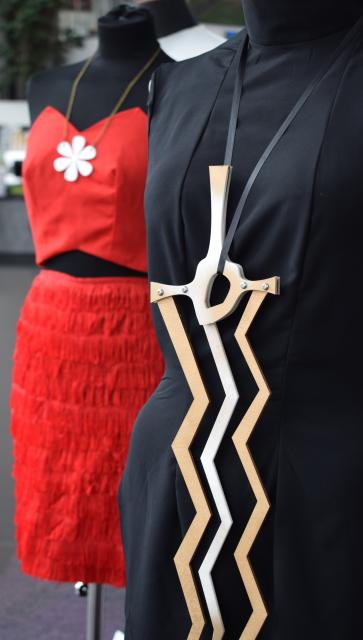 A student named Dale Curtis made a sword pendant to counterpart his college fashion show designs. Another student inscribed a purple faux leather skirt with delicate butterflies.
Fashion students showcased four concluding collections on the catwalk with a stimulating show in the college atrium.
First year students fashioned a 1980s collection, from power dressing to punk in addition to a 1950s collection of hand-printed pretty skirts and scarves.
Second year students designed a surreal dream drape collection and a Hollywood high fashion menswear collection.
The Fab Lab is open to the public on Mondays and Wednesdays, from 2pm to 5pm.