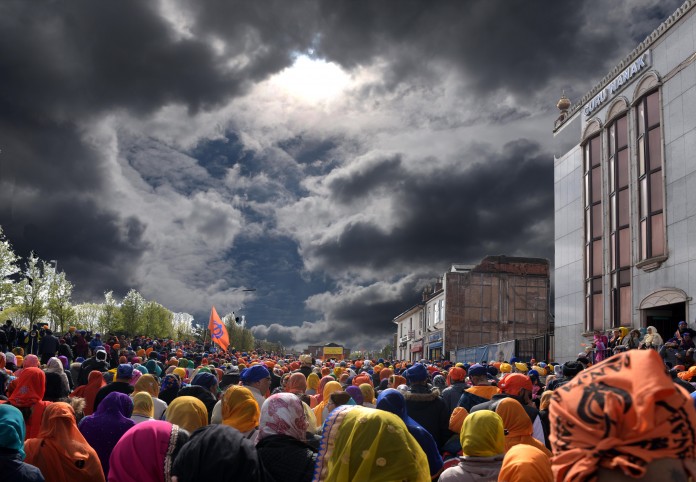 The Vaisakhi celebrations in Greater Birmingham are the largest in Europe and the second biggest Sikh festival in the world outside of India. This year saw over 100,000 visitors gather in Handsworth Park to celebrate a very important time of the year for the Sikh faith.
Vaisakhi represents the birth of the Sikh Khalsa, the unique identity of members of the world's youngest major religion. The identity was established by the tenth and final Guru of Sikhism, Guru Gobind Singh Ji in 1699.
Birmingham Vaisakhi celebrated their 25th Anniversary this year with the event firmly in the city's busy social calendar. The event is organised and delivered by volunteers. It is not immune to local authority cutbacks and Councillor Gurdial Singh Atwal urged council leaders in attendance to support the event. Mr Atwal stressed the Sikh community generate huge tax returns for the region and it would be a disappointment for the community to risk losing such an established event.
The gathering in Handsworth Park is proceeded by a 'Nagar Kirtan', a public procession from the Sikh temples in Jewellery Quarter and Soho Road with a parallel procession from Smethwick. These processions accompany the Sikh Holy Scriptures, the Guru Granth Sahib to Handsworth Park. I would encourage anyone who has not witnessed this event to attend in 2017. It is open to all and illustrates the devotion and absolute respect members of the Sikh faith have for the scriptures.
Leaders of all three major political parties in Birmingham attended, as well as local MPs and EU representatives.
I would like to congratulate the organising committee for their sterling work in delivering an event the region can be very proud off. It attracts media attention around the world and is therefore a powerful vehicle for showcasing the diversity of Greater Birmingham. It attracts inward investment, most notably the recent Qatar service between Birmingham Airport and Doha. Why is this important for the Sikh Community? There are onward flights from Doha to Amritsar and the feedback has been very encouraging.
All the more reason for the Council to back the Birmingham Vaisakhi Celebrations for the next 25 years.