Undefeated World Champion Floyd Mayweather states he would love to take Arabian Nites, Birmingham concept to the States.
Friday 12th February VIP guests walked the red carpet for an evening with undefeated world champion Floyd Mayweather who visited Arabian Nites one stop entertainment centre, to check out the cuisine and stylish and lavish set up. The A-list boxer was ushered into Arabian Nites under a super-slick security operation to enjoy an evening of exquisite food, mock tails and live entertainment until the early hours of the morning.
As the leading high-profile lounge, restaurant, dessert parlour and event venue in Birmingham, Arabian Nites directly caters to the City's most affluent clientele by providing a sophisticated decor and flawless Arabian style customer service, complete with exhilarating entertainment. In addition to costumed performers and dancers, parties at Arabian Nites, at Bissell Street Birmingham are also ignited by the regular rotation of well-known A list celebrity guests.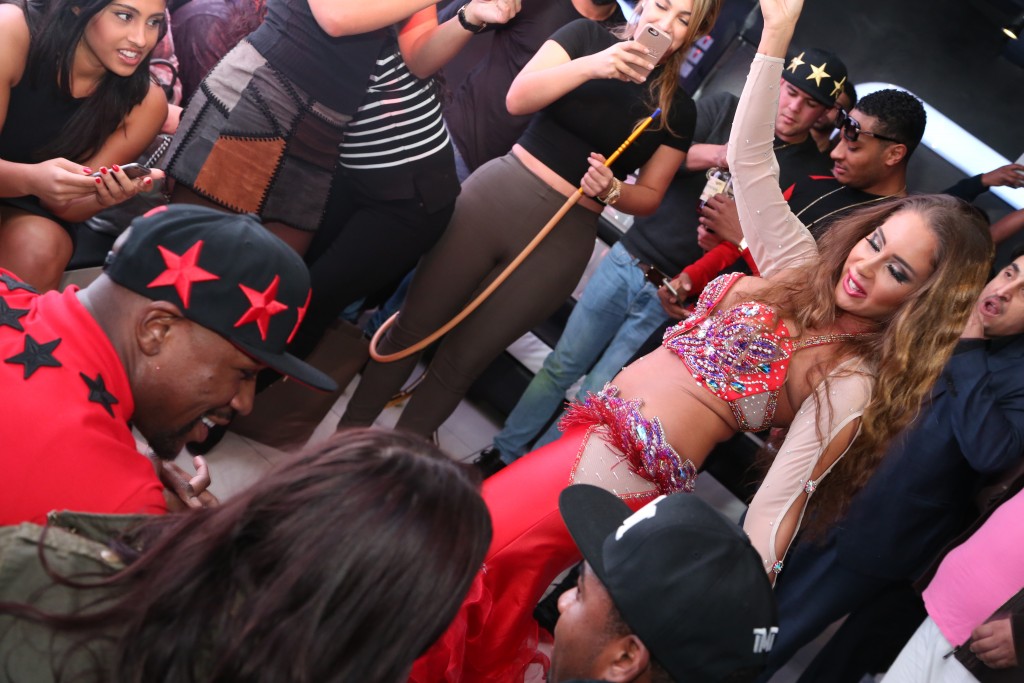 Floyd Mayweather commenced the evening with fine dining  cuisine form Turkish restaurant, followed by mocktails and mouth-watering desserts from the dessert lounge he then ended the evening at Arabian Nites entertainment centre  Arabian style after party. After spending 5 hours at Arabian Nites the millionaire boxer commented that he would like to take Arabian Nites concept to the states.
Qamran Rafiq  spokesperson for  Arabian Nites commented "It was privilege to have Floyd Mayweather exclusively dine and enjoy the Arabian Nites experience and look forward to commencing talks and look forward to welcoming Floyd Mayweather back to Arabian Nites as his regular stop"
Mayweather booked Digbeth-based car-hire company Phantom Hire to escort his twenty-four strong entourage from Cannock's Premier Suite.
The Boxing legend was clearly impressed with the service as he tipped the drivers £1,200, making that an extra £200 for each driver.
Mazhar Iqbal, who runs the Digbeth firm, escorted the sporting superstar and friends in six Rolls Royce Phantoms to Birmingahm's VIP shisha lounge, Arabian Nites.
Mahzar, 31, stated: "He was a very, very humble person, a very nice man. I'd read he wasn't the best tipper, but that must be wrong.
"It's not the biggest individual tip I've received, but it was a fantastic gesture.
"I didn't expect him to be chatty, but he was very chatty. I didn't expect him to be so open.
After feasting at the Birmingham Shisha lounge, Mayweather was taken to the Airport where his private jet was waiting.
Mazhar and his fellow drivers were left waiting an hour while Floyd made phone calls at Birmingham Airport, but the star hugged each driver before boarding his jet.
Mr Iqbal is staying quiet over how much Mayweather actually spent on luxury cars on the night, only stating: "It was an amazing night and an amazing insight into the man"