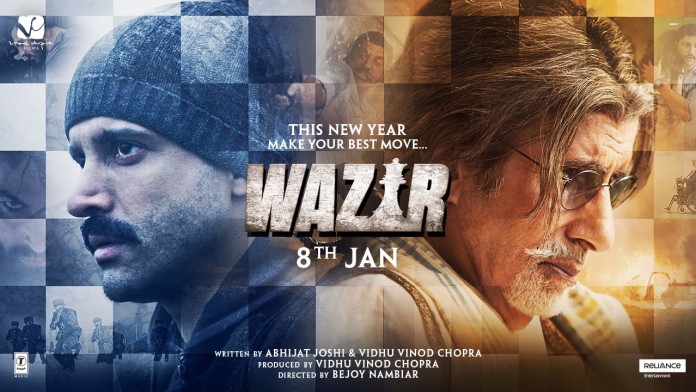 Wazir tells the story of two unusual friends; brought together by a twist of fate that has cast a dark shadow over their lives. Starring Farhan Akhtar, Aditi Rao Hydari, and not forgetting Bollywood's 'Big B' Amitabh Bachchan, the suspense action packed thriller, uses an interesting metaphor which forms the backbone of the mysterious story. Directed by Bejoy Nambiar, Wazir promises to be one to watch for the New Year. Desi Express takes an in-depth look into the rich and exuberant cast.
Aditi Rao Hydari on working on Wazir
Aditi Rao Hydari was delighted to work with Farhan Akhtar in 'Wazir' and describes their love story in the movie as "intense and intimate". Talking about the pair's onscreen chemistry, the actress says, "I'm very grateful because ultimately the love story portion of 'Wazir' is very intimate and very intense. I'm ecstatic because I'm a big fan of Farhan. I'm really happy that I got this opportunity to work with him and I'm happy that people have liked us together."
Speaking further about the film and her experience she adds, "The team of 'Wazir' is very special. All those who have worked on the film — whether it is Vidhu Vinod Chopra, Rajkumar Hirani, Mr. Amitabh Bachchan, Farhan Akhtar, Bejoy Nambiar… everybody is a special person and a very special artiste. They are all amazing people. I'm the youngest of all of them, so I'm privileged to be a part of it." She describes the story as "very gripping and beautiful. It's the first film of the year, so let's start the year on a good note and make it a hit."
Wazir not a physically limiting role for Mr. Bachchan
He may be playing a wheelchair-bound character in his upcoming film, Wazir', but screen legend, Amitabh Bachchan, never felt that his role was physically limiting in the movie as he was so excited to tackle it. The Bejoy Nambiar-directed action thriller sees him essaying a paralysed chess grandmaster called Pandit Omkarnath Dhar.
The megastar depended on Nambiar and explains how his approach to the role in was entirely assisted by the director. "I do not think it was limiting; it was exciting to be doing a role that I had not done before. The approach to the character was dictated by the director," he says, adding about the film, "Its story is unique and the way it has been presented is also intense and intriguing. It is a thriller with drama and emotion."
Wazir Neil Nitin Mukesh's darkest portrayal
Neil Nitin Mukesh may have played various negative characters during his career but the actor says his titular role in the forthcoming 'Wazir' is his darkest portrayal yet. He says, "Wazir is nothing but dark; he mocks and enjoys somebody else's pain. This is my darkest portrayal yet. I myself was quite shocked that I played this character. He is very unpredictable. Whether it's his face, voice or look, I had to work extremely hard for this."  Neil also explains how it was extremely difficult to intimidate veteran, Amitabh Bachchan, onscreen. "But that's where the acting kicks in. I did not want my nervousness to affect his performance so I made sure all the butterflies which were fluttering in the stomach remained there and never came out on face," he adds.
Speaking about his rapport with director Bejoy Nambiar, with whom he had previously worked in 'David', he says, "In the next two-three years, Bejoy is going to be numero-uno. Luckily for me, our tuning is extremely strong. I understand his technical aspects and I try to execute them along with the emotional bit in character. The balance between a director-actor fits perfectly."
Jaya Bachchan and Shweta Nanda give Wazir the thumbs-up
Screen legend, Amitabh Bachchan, who will be seen playing a paralysed chess grandmaster in the forthcoming action thriller, 'Wazir', has received the thumbs-up from his wife Jaya and daughter Shweta for the film. While filmmaker Vidhu Vinod Chopra, who is has co-produced the film, along with Rajkumar Hirani hosted a screening of the film for the entire cast, another special screening was hosted for the Bachchans then. Mr. Bachchan attended the screening with his wife and daughter. Later, he sent a text message to the filmmaker conveying that his family had applauded the film.
An action thriller starring Amitabh Bachchan, Farhan Akhtar, Neil Nitin Mukesh, John Abraham and Aditi Rao Hydari, Wazir releases in cinemas worldwide on 8th January 2016, produced by Vinod Chopra Films and distributed by Reliance Entertainment.