 Career change leads trained solicitor Davinder to Asian business award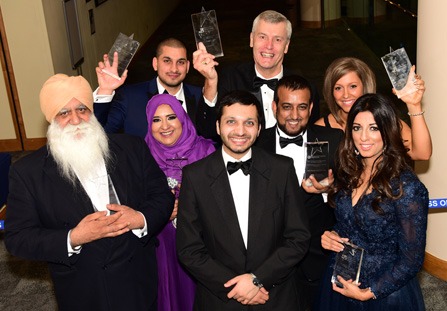 A change of career led to Davinder Rana being named 'Outstanding Business Woman of the Year' at Asian Business Chamber of Commerce (ABCC) dinner and awards at the ICC last night.
Davinder is managing director of The Services Group (TSG), a new company which began operating in December 2013. At the time, Davinder, a trained solicitor, ran her own law practice, but sold it to focus on her new venture.
At this time, TSG operated out of a small office in Hagley Road, with room enough for two people. The company's initial focus was on security work, which amounted to providing static guards on a few sites.
However, Davinder very quickly built up this side of the business, which now extends to event security, alarm response and the provision of store detectives, door supervisors and dog handlers.
In addition, the company has branched out into commercial cleaning, and as a result TSG now employs around 50 people. The company has moved into new premises and turnover is projected to rise from £550,000 this year to £2m in 2018.
Davinder said: "My vision is to make The Services Group a chosen, understood and reputable brand. I want to grow the business by at least 30 per cent each year."
Davinder was just one of the winners at the ABCC's event. Overall sponsors were the Birmingham office of global accountants Mazars and The Schools of King Edward VI in Birmingham.
Davinder's award was sponsored by Intuit QuickBooks. Other winners were Vicarage Nurseries, named as Outstanding Business of the Year (sponsored by Irwin Mitchell);
Harpreet Matharu, Young Entrepreneur of the Year (sponsored by Pera Consulting); Amirah Foundation, Outstanding Contribution to Society (sponsored by West Midlands Reserved Forces & Cadets Association); and Malmaison, Customer Service of the Year, sponsored by Pathway Group.
Vicarage Nurseries is a soft fruit grower specialising in strawberries, and is a family-owned firm based near Evesham. The firm was established as a hobby in 1996 on a 2.6 acre site, a far cry from today's 250 acres and annual production of 900 tonnes of strawberries.
Harpreet Matharu runs a weddings and events company, Matharu's, which is based in Birmingham. The firm started out with a single chocolate fountain, and from a humble start the business  is set to grow to a £1 million turnover concern by 2018.
Amirah Foundation works with vulnerable and homeless women, and is based in Hockley. The charity works in three key areas: crisis intervention, the 'Road to Recovery' and advocacy and campaigning. The former helps women fleeing from domestic violence, and 'Road to Recovery,' which helps give women the confidence and skills to rebuild their lives.
Malmaison is a long-established hotel which has carved a popular niche in the Birmingham business community.
Saqib Bhatti, president of the ABCC, said: "Once again, the shortlisted nominees and award-winners have demonstrated what it really takes to be shortlisted for the ABCC awards.
"With over 30 nominations, choosing the winners was a really difficult task. My congratulations to all the award winners for a very well-deserved win and I congratulate all the shortlisted candidates for getting this far.
"My heartiest congratulations to all the winners, who had exceptional applications. What should make this sweeter for them, is that their competition was also of the highest calibre, and the judging panel were impressed by their hard work, perseverance, commitment, ambition, drive and achievements to date."
Meanwhile, a special President's Award was made during the evening to the head of international trade at the Chamber, Jonathan Webber.
The award was made by ABCC President Saqib Bhatti, and is an annual accolade which recognises the efforts of an individual (or group of individuals) who have made a significant contribution to furthering a particular cause and purpose in society.
Saqib said: "Jonathan has had the privilege to enjoy a lifelong friendship with Asia, particularly South Asia and its history, people, cultures, trade, politics, communities and cricket.
"Similarly, Jonathan has worked very closely with the vibrant Asian business community in the West Midlands and wider UK, whose hard work, dedication and entrepreneurial and community spirit over the past 50 years has served as a role model for all and any business irrespective of their origin.
"His hard work and commitment has generated millions for the regional economy, giving business people from across the world the opportunity to link, network and explore business opportunities."
And a special ABCC Honorary Chairman's Award was presented to former Chamber chief executive Jerry Blackett, who stepped down this summer after a nine-year stint at the helm.
Honorary Chairman Nasir Awan said: "This annual award is at the discretion of the ABCC Honorary Chairman and goes to an individual who has contributed to and furthered the objectives of the Asian Business Chamber of Commerce.
"This year, the choice narrowed very quickly down to one individual and it would be remiss of us to not formally recognise tonight the guidance, leadership and support that they have given to our organisation over the last 12 years."
Mr Awan praised Jerry's "unstinting support, guidance and vision."