 Rav shares a few of her favourites for luscious lips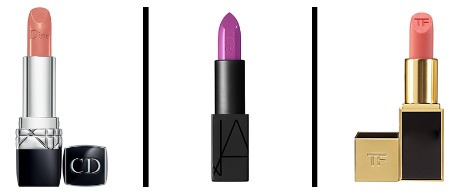 I have decided the reason that I'm sitting here wearing a rich chocolate brown varnish (Chanel Vertigo 563) on my nails which would be better suited to an autumnal evening rather than a warm summer's day is because quite frankly I never exercise etiquette when it comes to seasons and the colours we should correlate with them. I know some people pair pastels only with summer and darker hues for the latter seasons, but NOT ME!!! I do LOVE summer and its coral connotations, but you are more than likely to catch me mixing up my colours (and fashion, for that matter!) and I don't mind a bit of clash, either!

However, it is undeniable that we have some gorgeous colours trending SS15 or being revamped, so I thought why not bring you a few of my favourites from across the board, starting with luscious lips.
Lipslipslips

Balms, tints, glosses and lippies, we definitely love love love lipwear in any form. Picking flattering shades from across the spectrum means finding lippies in different hues that look great on us. There are some amazing shades worthy of our love which flatter almost any skin tone and there is every reason to start experimenting if you don't already. Being a walking advertisement for the same shade of lipstick for too long is a bit like watching one of those Asian dramas my Mum watches…I just can't do it! If you're stuck in a lippy time warp, now is the time to ditch the drab and dazzle with something new and exciting! Nude, pink, coral, orange or lavender, it's definitely lip love time on my watch!
Bourjois Rouge Edition in Ole Flamingo – a lovely lipstick/lip gloss hybrid, soft and velvety matte finish in such a perky, vibrant shade it is certain to make you feel very in trend. In addition, it is surprisingly long lasting and affordable;
Yves Saint Laurent Rouge Pur Couture The Mats in Orange Imagine – the picture simply does not serve justice to this luscious deep not-too-red-more-orange lip colour, it is rich, intense, stunning and very wearable – just dare to do it!
MAC Ultimate Lipstick in Ravishingly Rich – this just rocks my socks! It is an absolutely smashing and vivid orange and maybe not for the faint hearted! A bright and zingy pigment, it's sure to make a statement and looks adorable when worn with lashings of lashes, dewy skin and not much else (on the face, of course!). Fashionistas: go get it!
Christian Dior Rouge Dior Nude Lipstick in Grege – this is a classic and must have shade. Moisture rich and soft, the beautiful and neutral shade is a sure fire winner to pull together any understated, less-is-more look. A winner, CD never, ever fails to impress and I love this evergreen, subtle lipstick.
NARS Audacious Lipstick in Angela – a gorgeous, gorgeous, GORGEOUS cool and sassy shade, it has amazing coverage and although very vivid is completely flattering – LOVE! Boho or ultra groomed, this shade will set of almost any look and is very kind to most skin tones, it will most certainly inveigle its way into your make up kit given half a chance!
Tom Ford Lip Colour in True Coral – one (typographically incorrect but perfect for required emphasis) word: B.E.A.U.T.I.F.U.L! if you indulge in one coral this season, make it THIS! It is exceptionally creamy and smooth in application and this shade is divine. Again, compliments an array of skin tones and wears with a gorgeous sheen. Splurge, believe me, it is completely and utterly worth it.
Yves Saint Laurent Baby Doll Kiss & Blush in Rose Frivole – a very playful and pretty pink with the added benefit of it being both a lip and cheek colour. It's a beautiful consistency and just looks wonderfully fresh and juicy when applied. A treat for the lips and cheeks for sure.
MAC Lustreglass in Morning Glory – this requires no introduction I am sure, simply a dazzling pale lavender sheen for the gorgeous girly in you! Great for fun lips and when you're feeling a bit impish 😉

I have absolutely no doubt at all that you will love these lip treats as much as I do and I would love to hear your reviews. Why not let me know what's trending in your kit right now?

Email Rav at info@ravdeol.com .