 Third Ashes Test is Sold Out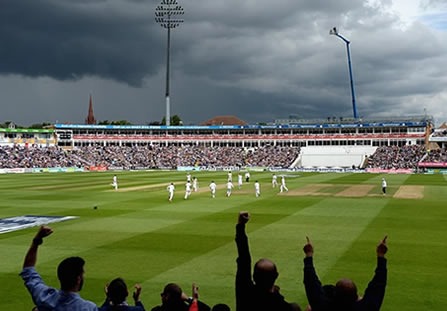 Warwickshire County Cricket Club has secured record aggregate ticket sales for a Test Match at Edgbaston with more than 105,000 tickets now sold for next week's third Investec Ashes Test Match.
Edgbaston's previous aggregate sales record for a Test Match was at the third match of the 2009 Ashes Series, when just under 103,000 tickets were sold. However, the stadium has since been boosted by the £32 million redevelopment of its South and West Stands, and is increasing capacity by a further 850 seats next week by constructing a temporary stand.
Gareth Roberts, Commercial Director at Warwickshire County Cricket Club, said: "As well increasing our capacity to around 24,500 seats on each day, this will be the first Test Match where we have sold tickets for Day five in advance, with more than 7,000 already sold.
"Tickets for days two, three and four are completely sold out, but limited tickets remain available in the Turkish Airlines Temporary Stand for day one, which we expect to go very quickly.
"It's fantastic to host the Investec Ashes Series and welcome Test cricket back to Edgbaston, with Test Matches now scheduled here each year until at least 2019."   
Emma Gray, Director of Marketing and Communications at Visit Birmingham, said: "The news that more people than ever will be coming to Edgbaston Stadium to watch this year's Ashes Test Match is a great opportunity for Birmingham and cements the city's status as a world-class sporting destination.
"We have calculated that these five days of cricket will be worth more than £26 million for the region's economy. We hope visitors enjoy exploring our leisure offer and are encouraged to return as we count down to an exciting period of launches in our retail, leisure and transport sectors."