 by Rav Deol, professional beautician & hair and make-up artist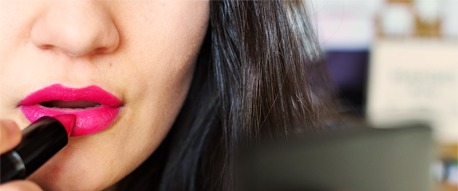 You know the world is made up of different types of people but I can broadly categorise them as follows:
The ones who spring out of bed when the alarm clock sounds, nice and sprightly bearing their artistic artillery ready to wage war on face:bare;

The ones who repeatedly hit the snooze button for another minute in bed; make up routine whittled down to 5.5 minutes flat, you GO GIRL! Even though the eyeliner gets thicker and thicker in a vain attempt to attain winged symmetry;

Those who can't tolerate the old nag and accidentally on purpose switch off the recurring alarm. Beauty sleep my behind, who says sleep=beauty anyway. Forget looking respectable, combing your hair is so last season, anyways.
Of late, I think I fall fair and square in the last two categories. Okay, the last category. Seriously, my dad has a couple of well worn compliments for me that used to surface here and there but seemed to be rearing their ugly dishevelled heads more and more often. Apparently, he says, when he feels an influx of fatherly affection, I look like his Grandma three days after she died. That's actually on my good days. The epitome of his wit is saved for my bad days: "Is that your face or did your neck just throw up?" Then I look at him and he is absolved of all blame because, after all, he thinks Farah trousers are sexy so what can he possibly know about looking good.
As much as I would like to believe it, looking like you have just rolled out of bed, sleepy eyes and all, is really not the look of the season and I therefore believe it is imperative for every single one of us to have a fantabulous and quick beauty routine condensed into a few focal minutes that can come into play on the days the alarm clock is really not your friend.

Don't wash and go!
Wash your hair the night before to save time in the morning and try plaiting or tying up nearly dry hair in a knot for gorgeous waves the following morning. Some people swear by dry shampoos or baby powder to buy another no-wash day, spray away and add some lovely life and bounce to your tresses at the same time. Alternatively, I am a real lover of hair ups: the perennial messy up do is quick, easy and looks great, or you can try sectioning the top of your hair, backcombing and pinning for volume, then gathering the whole of your hair into a ponytail for a slick, über quick and groomed daytime look.

Cut corners not care
No matter how much of a hurry you're in, don't forgo a suitable moisturiser and proper SPF, it's imperative and a long term investment for your skin. Use a tinted moisturiser or BB cream for instant uplift if you don't have time for the full foundation palaver. If you do apply foundation and powder, think about the tools you are using, good quality tools can give you a flawless finish, quicker. Finish with a good setting spray for longevity.

Bright eyed
If you haven't got time for detailed eyeshadow application, apply some concealer to the eyelid, it will even out colour tone and lend a fresh, preened look. Adding a dab of primer and a touch of neutral eyeshadow on the lid provides the perfect daytime look – taupe is always a win-win shade for me.
If you like more definition but want to keep a natural look, use an eye pencil to line the rims of eyes. Eye pencil is infinitely quicker to use in comparison with gels and liquids and water lines are quicker to coat than trying to draw the usual lines around the eyes, the effect is a lovely, defined eye.
Looking for smokey eyes in a hurry? Line your eyelid rims with eye pencil and use a cotton bud or tapered brush to gently smudge out. Clinique Quickliner Eyes Intense is gorgeous and comes with a handy smudging tool at the end of the pencil so you don't have to rummage for tools. Apply a dash of volumising mascara and adding a touch of loose of powder to lashes after the first coat will give extra oomph to your second coat. Remember to pretty up those eyes before applying foundation to avoid any fallout ruining your finish.
An all in one

A combined lip and cheek stain is not only cute and compact enough to slip into your bag, you essentially get two products in one which is a great time saver. Brush your lips when you brush your teeth for smooth smackers, add a dash of colour to your lips and cheeks and you're ready to rock! I really do love the Bobbi Brown Pot Rouge for Lips and Cheeks in Maui, it's a versatile colour which can be built up accordingly but a hint of any sheer nude lip gloss on the cheeks is gorgeous and, well, cheeky!!
Wearever!

Talking of all in ones, even good old Vaseline has an abundance of benefits: slick over lips for shine and moisture, tame unruly eyebrows, apply to lashes for the illusion of thickness and a clear mascara effect, apply sparingly to the tops of cheekbones for a transparent sheen, massage into hands and cuticles, in fact, wear wherever you like! Viva Vaseline I say!
Tips for talons

Hands. Why oh why do we neglect them? Do you know how terribly they betray ones age? Bedraggled hands and feet are a serious pet hate of mine, I feel upset when I see people with neglected feet showing them off in sandals. Invest some time and/or money in your feet, they carry most of us everywhere and deserve some fondness.

Anyway, moisturised skin and groomed nails are just a must in my books. Find a moisturiser that suits you and keep a tube in your bag/car/desk and apply whenever you can, at least after each hand wash. Nice nails don't have to mean extensions or claws, if you're demure like that then a simple buff and cuticle massage or a polish will suffice (use light, neutral colours so that wear and tear is not overtly visible before your next touch up – Dior Vernis in Grege, Nails Inc's Draycott Avenue and Montpelier Walk and Sally Hansen's Complete Salon Manicure Nail Colour in Café Au Lait are my recommendations for splurge, save and steal).

Good polishes can last up to a week, salon treatments considerably longer, so you're nails can look good with seriously minimal effort. IT. IS. NOT. DIFFICULT.
Smell nice!

Umm, what more to say on this, except smelling nice can swathe a multitude of sins, including skipping the wake up and make up routine!

And…you're ready for the day!

As the only train you will hopefully be catching at night is the Z Express, you have no excuse to skip that all important cleanse cleanse cleanse and moisturise night time routine. At least you will be beautifully fresh faced for the morning if, like me, you do decide to throw that alarm out of the window.