 Record Crowds Turn Out for Annual Event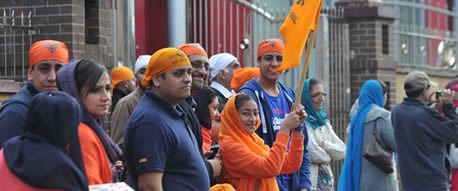 An estimated 120,000 people attended this year's Vaisakhi celebrations at Birmingham's Handsworth Park, the largest outdoor Vaisakhi celebration in Europe  The Council of Sikh Gurdwaras in Birmingham organised the annual event, which was free to all members of the community.
Running from 11am to 6.30pm, the event included Sikh cultural activities, children's inflatable play area, arts and crafts exhibitions, and sports and entertainment on the bandstand stage.
There was also a Langar area – a marquee in which free food is served – which is an important part of the Sikh faith, with food being prepared by various Gurdwaras across Birmingham and the Black Country.
A worship area, known as a Darbar, was an important focal point on the day and was opened to all communities to visit and learn more about the Sikh faith.
In addition to the celebrations in Handsworth Park, there were two processions. The first started at 10am from the Baba Sang Gurdwara in Sandwell, travelling along High Street, Toll House Way, Rabone Lane, Booth Street, Soho Road, Rookery Road, Oxhill Road, Grove Lane and ending in Handsworth Park at 1pm.
The second procession started from the Ramgarhia Sikh Temple, in the Jewellery Quarter, at 10am, travelling along Vyse Street, Hockley Flyover, Soho Hill, Soho Road, Grove Lane and then arriving at Handsworth Park at 12 noon.
At the head of each procession was the Guru Granth Sahib – the Holy Book of Revelation – led by five Sikhs dressed in ceremonial costume to represent the five original Panj Pyare (the Beloved Ones) who were the first to join the Sikh order more than 300 years ago.