 Key Industry Award for Thriving Midlands Retailer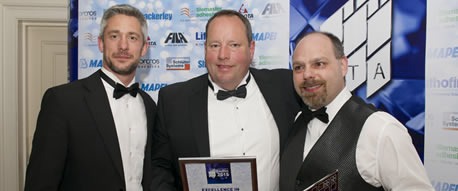 A leading Midlands independent tile retail chain is celebrating a successful business year after winning a prestigious industry award.
Tile Choice, whose head quarters are based in Wolverhampton and now have sixteen stores throughout the central region, attended the 2015 TTA Crystal Anniversary Awards in Birmingham, where they were recognised for their business excellence in the retail sector winning the Gold Award for "Multiple Retailer Of The Year" 
The Tile Association represents all aspects of the wall and floor tile industry in the UK, from manufacture to installation. Formed in January 2000, The Tile Association represents the whole of the UK wall and floor tile industry under one organisation. The Awards recognise and reward the innovative designs and projects that have happened over the last year, as well as appreciate the consistently high level of customer service shown by retailers within the Industry.
The TTA Awards is now in its 15th year and is still growing fast. This year, the awards were held at St John's Hotel and Conference Centre in Solihull, on Saturday 18th April, along with a black tie dinner for the estimated 400 people who attended, and was hosted by TV presenter Emma Jesson.
Marketing Manager at Tile Choice, Lee Rudkin was particularly proud of the company's achievement, "This is the third time in the last four years we have won Multiple Retailer Of The Year". "As a company, we've been working very hard within the retail sector and have continued to see some great results because of our dedication to make Tile Choice the market leader".
"We are great believers in utilising our experience within our industry to focus on providing only excellent customer service and products, which is essentially what everybody is looking for from a retail perspective".
"From the quality products we offer, which are bulk bought from trusted suppliers allowing us to pass on significant in-store savings, to the way they are presented in each specific store, we like to make each shopping experience as enjoyable as possible for domestic and trade customers alike".
"And of course, it's all down to individual style, so we make sure we stay up to date with the latest interior design fashions as well as continuing to offer traditional products to keep ahead of our competition, and remain always able to offer people a much wider choice".
"We are extremely proud to be recognised by our piers at The Tile Association for the work our dedicated team have put in to making Tile Choice such a success".