 Sorcha Aims for UK Title
A local model is aiming get her big break after being chosen as a finalist in the Top Model UK 2015 competition.
Sorcha Newby, 19, of Syston, in Leicestershire, realised she had talent in the world of modelling when she won the very first beauty pageant she entered.
Since achieving the title of Miss Rutland 2012, she has been offered modelling work in magazines and on the catwalk.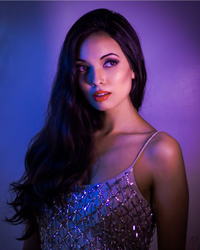 Sorcha said, "My dream is to be on the catwalk at London Fashion Week and this competition is a brilliant opportunity – there will be lots of people from the industry there who will see me in the final, which will be like a live fashion show.
"Designers are coming from all over."
Sorcha, who works in the finance department at Leicestershire County Council, had been invited to the auditions for the competition in London.
She said: "After I was invited I did some research and realised what a big competition it was. When I went to London there were lots of us – about 60 on the day I went – and we had to model lots of clothes on the catwalk with photographers taking pictures of us. Then I was one of the 25 who made it through to the final."
"Miss Rutland was the first pageant I'd ever entered and I won it. I was like, 'What?' And it's all gone on from there."
She then went on to participate in the final of the Miss England beauty contest later in year in Leicester.
"Since then I've been doing quite a lot of Asian bridal work, which is brilliant – getting to dress up in wedding dresses and pretend to get married all the time! It's a dream job but what I'd really love to do is high-end fashion so in March I'm going to be in it to win it."