 Philanthropist Receives Local Hero of The Year Award

Mohammed Zafran, the award-winning Community Liaison Officer at South and City College Birmingham, has been recognised once more for his inspirational work in the local community.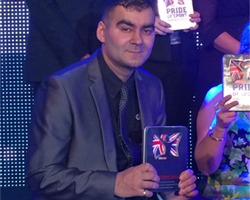 The award-winning philanthropist has recently added another award to his mantle piece, having won the Local Hero of The Year Award at the Inaugural Pride of Sport Awards 2014 held in Grosvenor House Hotel in London on Wednesday 3rd December.
Known to many in the West Midlands as Zaf, his remarkable dedication and courageous actions in promoting motivation and competitiveness in youngsters has led Zaf to make a positive impact on more than 7,500 young people in Birmingham. By involving youths who would have otherwise been up to no good in the streets and parks of Birmingham in sports and education, he has kept them busy and out of trouble, and for these altruistic endeavours, Zaf has been much lauded.
The community hero was described as "one of British Sport's most inspiring characters" for having "changed thousands of lives with his soft and humble approach."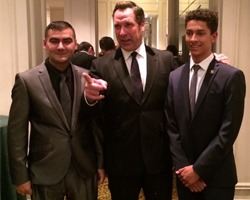 At the awards evening hosted by Sky Sports Zaf found himself amongst a star-studded line-up which included prominent sports personalities and sporting legends the likes of Alan Curbishley, Barry Mcguigan, David Seaman, Jermaine Defoe, Kenny Dalglish, Ledley King, Sam Allardyce and Simon Jones.
The night also afforded Zaf the opportunity to meet his childhood hero, Kenny Dalglish, who congratulated Zaf on his award, and told the thrilled fan, "You're on a good run now son, keep it going."
Sky Sports News Presenter Georgie Thompson described Zaf as an "absolutely incredible young man" and went on to say, "people from all over the country need to recognise his work and what a great impact he's made to so many individuals".
"On a night like this in which we are all celebrating and congratulating our heroes, my heart and thoughts are with the family of the late cricketer Phil Hughes who passed away recently," said the local hero upon receiving his award. His heart-message on stage was received with a standing ovation from the crowd.
When asked by Sky Sports News about what this award meant to him, Zaf said, "Winning any award means a lot to me because people recognise you for all the work you are doing to help others" and if this inspires a lot of other people in the community then it is worth it. I would like to dedicate this award to all of them and my colleagues and family."
Zaf has had a fantastic 12 months in which he's becoming a nationally recognised individual for his community work. The Local Hero of The Year Award is the 7th Major Award Zaf has received since September 2014, in which he won the Pride of Birmingham and the National Awards.