 Her Focus Lies Clearly On The Issues In The Middle East

Lady Warsi returned to the public gaze in an open and frank conversation with an audience at the City Circle forum.
Since her dramatic exit from Cabinet Lady Warsi has spent much of her time catching up with family. Looking relaxed and refreshed she is ready to join the political arena with her focus clearly on the issues in the Middle East. She has planned a trip to Gaza and this week will be taking part in a big debate in the House on the Middle East.
Lady Warsi felt strongly about the lack of behind-the-door discussions with Israel over the situation in Gaza. She spoke of her frustration when she tried every possible dialogue with her party on policy matters – "I had to stand up on the dispatch box on a daily basis and justify a government position that I fundamentally disagreed with …On the Gaza issue it started with a simple issue of language. We could not find humane language to talk about inhumane activity".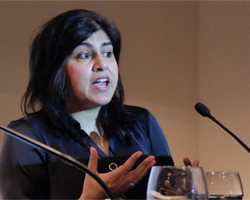 In recent history she became the longest serving chairman of her party and one of the most influential Muslim woman in politics. She was challenged on the fact that she could have used her position of influence to address matters on the issues of Gaza. Warsi said that it was not an easy decision and one that she gave her full consideration before she tendered her resignation. She felt that she would make no difference to policy matters in the immediate or foreseeable future had she continued to stay in Cabinet and decided that coming out and campaigning from the outside would be much more effective – "Power is important if you can use it to make a difference, but if giving up power can have an impact then that is actually using power properly. I felt that I needed to give that power up to say what we are doing is so fundamentally wrong now that it was something I could not stand by".
On Palestine, she said that the government could have set up a process to account for the war crimes committed but failed to see any commitment – "You cannot stand up and say that we believe in a two state solution and then recognize one state and not recognize the other. The window of opportunity for a viable two state solution is fast closing if not nearly over".
Lady Warsi will be gearing up for the next General Elections and will be actively campaigning alongside conservative candidates.