 Crowds Turn Hostile At Bilawal Bhutto Zardari's Attendance

A protest organised by a UK-based group of Pakistan supporters was forced to disperse when chaos descended amongst the few hundred people that had gathered in the heart of London.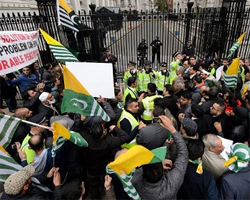 The rally, organised to show support for Pakistan in the on-going situation between India and Pakistan in Kashmir, fell into disorder when the head of Pakistan Peoples Party (PPP), Bilawal Bhutto Zardari, ascended onto the makeshift stage to deliver his speech before protesters who had travelled from across the UK in the so-called Kashmir 'Million March' from Trafalgar Square to Downing Street.

The crowd quickly turned hostile and expressed their discontent at Bilawal Bhutto's presence at the rally, with members of the crowd booing, jeering and throwing empty plastic bottles at PPP's chairperson, unwilling to let him speak. Police stepped in to help dissipate the situation and the Pakistani politician was led away under protection. The rally was forced to end by the police soon after.

A group of angry protesters who had travelled from Derby to participate, said, "this march was to be about Kashmir and for the welfare of Kashmiris. Bilawal has no business being here."

The march was led by Barrister Sultan Mahmood Chaudhry, known unofficially as the former prime minister of Pakistan-occupied Kashmir, and was supported by the British parliamentarian of Mirpuri-origin Lord Nasir Ahmed of Rotheram.