 by Manisha Tailor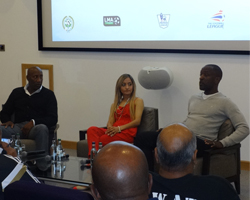 The 2012/13 season saw the launch of the COACH bursary programme led by FA consultant, Brendon Batson. With it now coming to a potential close, I was honoured to have been invited as a guest panellist, along with former premiership managers Chris Ramsey (ex Tottenham) and Chris Powell (ex Charlton) at St Georges Park to share my experiences in football with the current bursary scheme participants.
Brendon Batson spoke in great length about the impact the scheme has had on the community. "The bursary programme has been a 3 year programme and will come to an end in its current form this season. It is funded by the whole game like The FA and PFA and it is trying to raise the under-representation of the number of coaches from the BAME community. Firstly we pay up to 90% for coaching courses, with a 10% commitment coming from the candidates. The second part is that we try and get them a placement with professional clubs to ensure they gain the best experience possible including mentoring. This is a scheme for both male and females and people like Manisha are unique and it was great to have her talking about her football journey along with Chris Ramsey and Chris Powell".
Cory Hendricks-Jackman (The FA, Equality) helped organise the event and was extremely pleased with the outcome of the day. "I organise the events that involve the coach candidates. We have 63 successful coaches on the bursary programme with 47 in attendance at today's events. The COACH bursary programme event today has been extremely successful and we will ensure all candidates are fully supported through their journey".
A potential barrier to gaining qualifications can be due to lack of finance, as Robbie Spencer, a COACH bursary candidate and Brentford FC scout co-ordinator has found. "The bursary is a great opportunity as it's helping me further my career in coaching especially as a big barrier was not being able to finance it. This has really been a massive help and it will hopefully now aid in my long term plan which is to work through the system at Brentford and become an academy coach there within the foundation phase".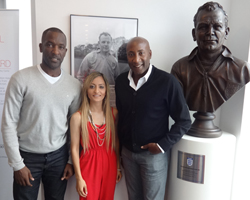 Chris Powell (former Charlton manager) commented on how imperative such as scheme was to help up-skill coaches. "I'm all for the bursary scheme as there is a lack of black and ethnic minority people in coaching and this gives them the opportunity to become a better coach and enhance their skills with support from relevant football bodies. If you want to be the best coach talk to people and find out what they have done, gain experience which you may not always get paid for. It may not be easy, but go on that journey and put yourself out there".
Equally, Chris Ramsey (former Tottenham manager) praised the idea and raised the importance of the grassroots game. "I think it is a really good idea to encourage the young coaches to access support and gain experience that could take them to 1st team level if they wish to or make sure that they are good teachers in the grassroots game".
Natasha Ademakinwa (COACH bursary candidate) is really looking forward to continuing her coaching journey with the support of this programme. "It is a great opportunity as it opens doors for people like us to progress in coaching with relevant support. I feel we are hidden so this will allow us to get out there and show our stuff".
Another candidate, Yasar Latif who is also a coach at Moditown FC spoke of the FA and its support. "I think it's a great opportunity for both male and females from Black and Asian Ethnic Minority groups to get involved in the professional game. Also it's a chance for the FA to help us work in academies as we all know courses are expensive".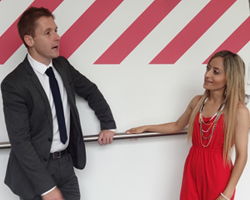 The funding and mentoring this programme provides is brilliant and a real need if we are to see a rise in the next generation of quality coaches from the BAME community. The FA's Danny Lynch (Equality and Communications) commented on the number of success stories as a result of the initiative. "I previously worked for anti-discrimination organisation Kick It Out for 6 years before taking up a role at The FA. My remit is Equality in particular the communications part of that and currently working on the Asians in Football initiative as well as the COACH bursary event today to try and ensure there is equality across the board in football. I think the COACH bursary scheme is wonderful and I have heard many success stories as a result. The education part of it is extremely important and we hope to see and support the next generation of coaches into the game".
This programme is about providing an opportunity for some people from under-represented groups to achieve the qualifications and experience to challenge for jobs within football that they would not previously have been able to do. Although the bursary has come to an end in its current form, we hope that it will reform in the future to aid the next generation of BAME coaches.