 RAISE £1700 FOR VICTIMS OF SEXUAL VIOLENCE
Wishful Smiles and Milaap, a mission based organisation, joined hands to collaborate with Atria Gallery to celebrate the spirit and struggle of the female warriors in India on Thursday 11th September at the Bhavan Centre, London. This joint collaboration to support victims of sexual violence (Red Brigade Lucknow) also raised funds for the ex-Devadasis (Servants of God) thereby enabling financial independence through entrepreneurship.
Set against the background of stunning art and sculpture works by Atria Gallery, the event 'Inner Warrior: A Tribute' saw esteemed guests networking, raising funds and celebrating the journey of these resilient and determined women warriors with great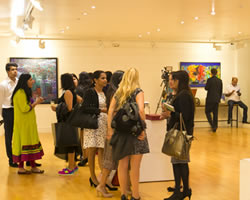 enthusiasm. The hosts managed to raise a humble £1700 that will be shared with Red Brigade Lucknow to organise self-defence classes for a million women in India and with Milaap to allow the ex-Devadasis to continue their entrepreneurial journey ensuring a life free from the vicious cycle of prostitution.
The gallery exhibition showcased Atria Gallery art work and sculpture pieces that depicted the female warrior of India and brought much excitement and ambiance to the Bhavan Centre. A presentation by Premila Puri Makh, Champion of Milaap, highlighted the plight of the ex-Devadasis who are trying to build a better future as entrepreneurs deploying Milaap's unique crowd-funding platform where you can 'Loan a Little, Change a Lot'. Selina Hotwani, Director of Wishful Smiles, presented the Red Brigade Lucknow's fight against sexual violence and how these resilient young warriors were trying to help and protect the women of India. Both these stories of the female warriors connected with the guests who donated magnanimously that evening.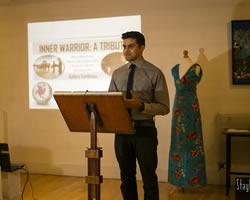 Virendra Sharma MP Ealing and Councillors Larry Culhane and Eve Allison were also present at the exhibition to show their support to a very important cause. Luv Asia Radio, official media partners for this event, have consistently expressed the importance of tackling such barbaric issues affecting women globally and demonstrated their full support to help empower women by contributing very generously towards the fund-raising efforts on the evening.
The causes resonated deeply with the many generous people who had sponsored the evening as they not only dug deep into their pockets but also into their hearts. Our key sponsors, Rahul Moodgal, Kish Hal and Sital Patel of Forever Living and Nurture your Future, showed their undying support for women. Auction and raffle prices by Dr Deepa Sambare-Apte of Ayurveda Pura Health, Paresh Jethwa Jewellers, Geeta Handa of C-Atomic and Evergreen LTD, raised a generous amount to support victims of sexual violence and ex-Devadasis.
This event brought many organisations together to help a cause that should be very important to us all. As the motto goes, 'Healing Hearts through Joining Hands' shows when likeminded people and organisations collaborate for a bigger purpose they double their efforts and can make a significant difference to those that are in need. And that's exactly what Wishful Smiles and Milaap achieved on the night.