 Chefs at Itihaas restaurant worked with artists to adorn the four-foot canvas


A wedding caterer and restaurant has created a giant Indian flag made of authentic ingredients, to celebrate the anniversary of Indian independence.
Chefs at Itihaas, based in Birmingham, worked with artists Alexandria Robinson-Sutherland and Lexx Carby of Uneek Walls to adorn the four-foot canvas.
The orange strip is made from 4kg of turmeric, a brightly-coloured spice used widely in Indian cuisine, while the green strip is made from fresh coriander leaves.
For the central field, including the elaborate blue-dyed wheel, the artists used 10kg of basmati rice.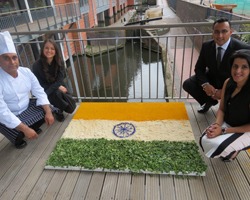 Raj Rana, managing director at Itihaas, said:
"Nearly 70 years after independence, Indian cuisine remains a much-loved part of British life. High-quality Indian food requires the best ingredients, and the British consumer today is demanding an authentic experience, which we always aim to give."
The creation of this artwork coincides with the restaurant's launch of bespoke ready meals, meaning that visitors to its Selfridges Food Hall branch can now take home a chef-prepared taste of India.
The flagship Itihaas restaurant is located in Birmingham's business district. The company is also a prolific wedding caterer and planner, delivering over 150 weddings a year.
The artwork will be displayed at the Fleet Street restaurant until the end of September.