 University will Move all Teaching and Learning to Edgbaston and City Centre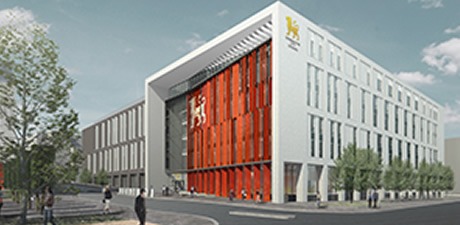 Having already committed over £180m in developing its estate and learning facilities, Birmingham City University has unveiled plans for a further £58m improvements to consolidate to two campus locations from 2017 – transforming the University's environment.
Following approval by the Board of Governors, the University will move all teaching and learning, research and business engagement services, student support and professional services to its City South Campus in Edgbaston and the City Centre Campus within Eastside and near Millennium Point — with both sites benefiting from new purpose-built facilities.
The University announced its two-campus strategy in 2012 and has been consulting over the future use of the Perry Barr since then, having established The Perry Barr Taskforce working group with local businesses and politicians. The intention has — and continues to be — to retain student accommodation and the Doug Ellis Sports Centre in this area. The Perry Barr Taskforce met the University earlier this week and views the opening up of a significant development site in Perry Barr as a major opportunity going forward.
Vice-Chancellor Professor Cliff Allan said that the exciting long-term estates strategy will ensure that BCU is best paced to become a university of choice for Birmingham, the West Midlands, UK and internationally by providing facilities and a learning experience which are world-class.
Phase I of the University's City Centre Campus expansion was completed in September 2013. The Parkside Building, which brings together art, design and media provision, has since received the 'Sustainability Award' at the recent Insider West Midlands Property Awards and has also been shortlisted in the 2014 Civic Trust Awards and the Guardian University Awards 2014.
Phase II, which will open in September 2015, will house Birmingham City Business School, together with the Schools of English, Law and Social Sciences.
Phase III, scheduled for completion in September 2017, will see the School of Education move to join the Faculty of Health at City South, creating a hub for the provision of public service contracts and professional development.
"Positioning the university at the heart of the city will enable us to capitalise on connections and better engage with local and national business so we can continue our focus on professional and practice-based courses and development to attract students to the city and retain highly-skilled graduates in the region," he said.
"The significant amount of new build on both sites will enable us to create best practice facilities and an environment which embraces new technology and the innovative methods of teaching and learning required by today's students and business partners."
The two-campus estates strategy includes a combination of new land acquisition, new build on existing University sites and a small amount of leased property. Professor Allan explained that these decisions provide the most cost-effective and practical solutions to future proof the University and provide the ability to adapt quickly to the ever-changing Higher Education landscape.
Vice-Chancellor Professor Cliff Allan said, "The realisation of a two-campus strategy with closer alignment of University-wide academic delivery and professional services support will achieve a more integrated and efficient service to students, staff and other local stakeholders. 
The co-location of academic delivery and support services will allow us to become more business and city-facing, to develop more research space for students, visiting scholars and our own staff. Focusing provision on two major campuses will improve the student experience by creating a strong sense of community and a seamless and consistent level of support services, such as welfare, social, library, IT and specialist studios and workshops, that is not possible currently on all campuses."