 How Munir Ahmad has created an electric giant on Birmingham's Soho Road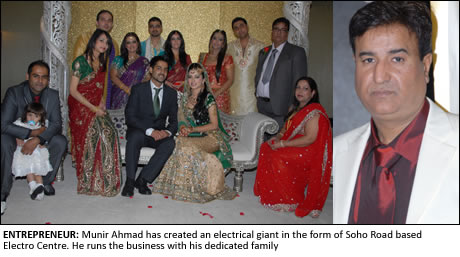 MUNIR Ahmad knows what it takes to build a successful business.
The Birmingham businessman is the proud owner of the hugely successful electronics outlet Electro Centre situated on the busy Soho Road, Handsworth.
With a thriving shop and internet business, many would think Munir, aged 55, is close to handing the reigns over to his dedicated family who have been by his side all the way.
But Munir thinks differently and those who know him well aren't at all surprised.
When Munir arrived in Britain as a young but strong willed 13-year-old he already knew what he wanted.
His father worked seven days a week in a factory for what amounted to just £1 a day before investing £1,000 of the family's savings into a radio repair shop on Soho Road.
"We asked the owner for advice on starting our own business. He said 'take mine!' This was on a Friday. By Monday I had the keys to the business in my hands," says Munir.
Growing up Munir worked side by side with his father and siblings in the shop, and in 1974 Electro Centre was born.
Munir became sole proprietor of the shop a decade ago and he hasn't looked back.
Walk into the double fronted store today and you'll see Munir alongside his wife, sons, daughters and son-in-laws.
It's very much still a family business and that togetherness has led to Electro Centre becoming a multi-million business.
It recorded a £27 million turnover last year boosted by its hugely successful internet outlet.
"We don't just sell radios any more. We now do import, export, retail and wholesale. We are very well known and I am very proud of what we have created," he said.
And Munir has even found time to expand his business portfolio. A few doors down from Electro Centre is Soho City – a shopping complex filled with small business.
For the time being Munir has no plans to take a step back from a business that has been part of life.
"I am still the first to arrive and the last to leave," he says. "I always open and close the showroom myself."
Munir is a fine example of dedication at its finest.