 Brit-Asian footballer shares his thoughts in an Exclusive Column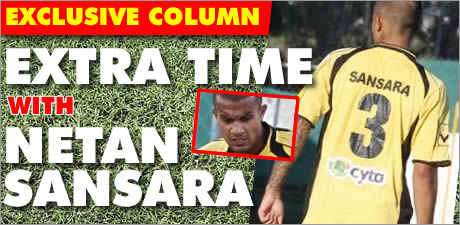 WALSALL-born Netan Sansara packed his bags and moved to Cyprus over the summer after putting pen to paper on a deal with PAEEK FC. In doing so he became the first British Asian player to feature in the Cypriot League.
In a series of Exclusive Columns with The Asian Today, Netan gives us his thoughts this month on…
… life with Paeek FC
I feel I have done well in the games so far. I know I can't be 100% every game but as long as I put a shift in and work hard I can be happy with myself.
…keeping one eye on the Premiership
What Manchester City did to United is a massive statement from the blue half of Manchester. My prediction is that City might just pip United to the title
…the club he's supported as a boy
As a Liverpool fan for me they are the most frustrating team to watch
…Wayne Rooney and that Euro Qualifier red card
Rooney can have no complaints – he should know better
Hi guys, thanks for reading the first of many columns here in The Asian Today newspaper.
I moved to Cyprus in the summer after signing for Paeek FC – becoming the first British Asian player to feature in the Cypriot League. I'd spent all my footballing career in the UK up to that point so moving to another country was more than a little daunting.
Being away from my family and friends is hard and I miss home like crazy. Everyone is in the UK – my family and friends and it can get a bit lonely sometimes. I'll hopefully get some time off during the Christmas period so I can go home enjoy the festive period with the family and re-charge the batteries. It's always good to see your family and friends and its good to switch off from football sometimes and enjoy the love of your family and friends.
The season's well underway here in Cyprus and things are going well. I'd like to think I am settled in now – I have got into a routine and try and keep myself busy. The lads have been great and when your training every day time flies. When we win there's a great buzz around the place and this is the atmosphere we need to create if we want to push on this season.
We started the season well notching up a win and two draws. But since then we've had a major set back taking only 3 points from a possible 9 which to be honest is not good enough if we want to gain promotion. The manager had a few harsh things to say over the last couple of weeks and it's up to us to put this right by working hard and putting in the performances.
We recently played the favourites for the League DOXA FC – the game was live on Cypriot TV but unfortunately we lost the game 2-1. We didn't play well in the game at all but we could have knicked a point at the end of the game with a few late chances. After reflecting on the game we know we aren't a million miles away from the top team. With a bit more consistency I feel we can really push on and gain promotion. On a personal note, I feel I have done well in the games so far. I know I can't be 100% every game but as long as I put a shift in and work hard I can be happy with myself.
The one area I did think I would have issues with here in Cyprus was the language. Thankfully, it's not been too much of a problem. I've started picking up the main Greek words here so I've been getting by. My good friend Zesh Rehman who plays in Thailand with Muangthong United recently launched his 'Football Talk' App which is a great idea and one that can help players like myself playing in foreign leagues.
There are many English footballers playing abroad and this App can be a great help to them because when you first move to a country the language barrier can be such a massive thing. I'm lucky in the sense that most players here speak English to a good level.
When I'm not playing football I make sure I keep up to date with all the major stories and games back home in the UK. Recent results in the Barclays Premiership have left me stunned – none more so than Manchester City's emphatic 6-1 win over rivals United. What City did to United was a massive statement from the blue half of Manchester and while there were some who thought City could be title contenders, the 6-1 makes it almost definite. Saying that you can never write off United because they have so much ability throughout the team and their know how of winning title after title always stands them in a good position to bounce back.
We can't discount Chelsea from the title race either. They look strong this year with Villa-Boas getting them to play a new exciting brand of football. My prediction is that City might just pip United to the title – and as a Liverpool fan this would leave me more than satisfied!
Talking about Liverpool, my boyhood team, for me they are the most frustrating team to watch.
I watched their recent game against Norwich – we had so many chances to finish the game off and we didn't. Norwich then go down the other end of the pitch and score against the run of play.
It seems to become a regular occurrence – when Liverpool are on top they need to kill the game off. This is the difference between the top four and the mid table teams – the ability to take their chances and win the game.
On a plus side Luis Suarez is so lively and a real class act – he gave the Norwich defenders a torrid time. He's such a handful and is always on the move making it hard for defenders to get close to him – a great buy from Kenny Dalglish. My disappointments are Downing and Carroll – there's no doubt these two players are quality players but when you come to a team like Liverpool expectation on you becomes far greater and you need to become consistent players. Downing needs to start creating more and chipping in with a few goals whilst Carroll needs to start finding the back of the net!
Premiership aside, it was great seeing England book their place in next years European Championships. On the down side we'll be without Wayne Rooney after his red card.
Rooney is such an experienced player despite his age, but it was 100% a sending off. He retaliated and kicked out and to be honest he can's have no complaints – violent conduct is an automatic 3 game ban. He should know better, the game was won and he should have used his experience. We all know Rooney is a fiery character but he needs to control this.
Much has been made about how England will cope without him during the group games next summer but I think England will be ok. In Bent and Defoe we have two natural goal scorers who can fire England into the finals. They have never really been given a run in the team but now they have to take their chance to show they can do it at International level
Any team without Rooney is weakened, but I don't think it's such a big deal as long as the strikers do their jobs well and score the goals to take us to the later stages of the tournament.
That's the 90 mins from me this issue! I hope you've enjoyed my first column, and I'll be back next month so don't forget to grab your issue of The Asian Today!
Netan Sansara was talking to The Asian Today's Zakia Yousaf