 Haris Ansari wins Gold at International Championships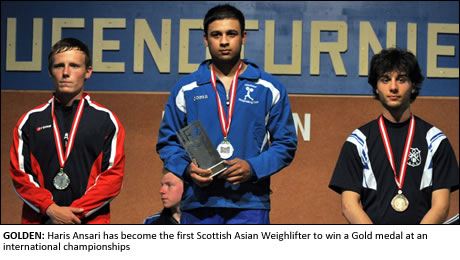 WEIGHTLIFTER Haris Ansari has hit Gold!
The 20-year-old from Glasgow lifted his way to a coveted gold medal at the Fulda Cup in Lochen, Austria – and made history at the same time by becoming the first Scottish Asian Weightlifter to win an international championship.
Competing for Team Scotland (Gladiator Weightlifting Club), Haris successfully won his 69Kg class with a total of 215Kg, winning the gold medal by 1 kilo from his Austrian compatriot.
Haris was also awarded the Best Lifter award for his age group.
The hard fought win puts him on a solid platform for the 2014 Commonwealth Games which will be held in his hometown of Glasgow.  
"It is important to make an  impact at the home games as we will not get an opportunity like this for a long while," Haris says.
"My coach (Raymond Cavanagh) who also competed at the games in 1994 for Scotland has guided me in the most professional way and with his commitment and my hard training I believe I am more than capable of doing well."
Last month Haris also enjoyed success at the British University Championships with a silver medal in the 69Kg class.
He is now training for the biggest weightlifting event in Britain, the British Senior Weightlifting Championships in Shropshire where he will compete against lifters who took part in the Commonwealth Games in India last year.
Haris puts his success mainly down to his coach Raymond Cavanagh and his parents. "Having my coach as a father figure and the support of my parents has made a huge difference in my life," he says, "this would never be possible without them."