 Parliament Votes to Recognise Palestine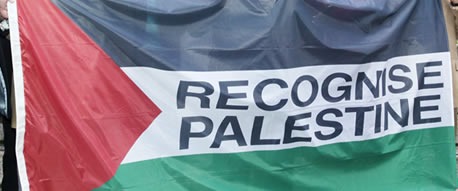 (Reuters) – British lawmakers voted on Monday to recognise Palestine as a state, a move that will not alter government policy, but carries symbolic value as Palestinians pursue international recognition.
Britain does not classify Palestine as a state, but says it could do so at any time if it believed it would help promote peace between the Palestinians and Israel.
Prime Minister David Cameron abstained from the vote, which was called by an opposition lawmaker, and Cameron's spokesman earlier said foreign policy would not be affected whatever the outcome.
The vote was closely watched by Palestinians and Israelis seeking to gauge the readiness of European countries to act on Palestinian hopes for unilateral recognition by U.N. member states.
The final motion, which passed by 274 votes to 12 stated: "That this House believes that the Government should recognise the state of Palestine alongside the state of Israel as a contribution to securing a negotiated two-state solution."
The vote comes just as Sweden's new centre-left government prepares to officially recognise Palestine, a move condemned by Israel, which says an independent Palestine can only be achieved through negotiations.
Lawmakers who backed the motion said it would increase pressure on Israeli and Palestinian authorities to revive the stalled peace process.
"Its purpose is very simple, based upon the belief that the recognition of a state of Palestine, alongside a state of Israel will add to the pressure for a negotiated two-state solution and may bring that prospect a little closer to fruition," said Jack Straw, who served as foreign minister between 2001 and 2006.
NON-BINDING
Only 286 of 650 lawmakers voted, with many outside the government choosing to abstain. The ballot is non-binding and will not force Britain, once the colonial ruler of Palestine, to change its foreign policy.
The government said progress towards a two-state solution was urgent, and recognition of Palestine as a state should be carefully timed to help that outcome.
"The UK will bilaterally recognise a Palestinian state when we judge that it can best help bring about the peace," said Tobias Ellwood, the government minister with responsibility for the Middle East.
"You can, after all … only play this card once," he said. "Once it's done, you cannot repeat it, so the timing of this is critical."
The U.N. General Assembly approved the de facto recognition of Palestine as a state in 2012, but the United States, the European Union and most EU countries, including Britain, have yet to throw their weight behind unilateral independence.
The Palestinians want an independent state in the West Bank and Gaza, with its capital in East Jerusalem.
Palestinians have long resented Britain's role in the region, arguing its three-decade rule over Palestine and subsequent withdrawal in 1948 allowed the creation of an Israeli state.
U.S.-backed peace talks between Israelis and Palestinians collapsed earlier this year and there is no sign they might be revived any time some.
Western diplomats in Jerusalem question in private whether the so-called two state solution is still viable, given extensive Israeli settlement building on occupied lands.