 Vijay Chavda, conqueror of Mount Kilimanjaro urges Brits to follow their dreams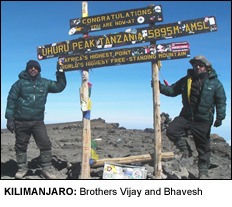 A LECIESTER Software Designer is urging Brits to follow their dreams after fulfilling his own when he climbed the magnificent Mount Kilimanjaro.
Vijay Chavda scaled Africa's highest mountain with his brother Bhavesh, and two close friends at his side in October 2009.
In doing so the group raised a magnificent £10,000 for cancer charities.
Now Vijay is urging anyone thinking of climbing Mount Kilimanjaro to follow their dreams – and he's willing to offer his experience to help them prepare for the monster climb.
"There must be other people who are in the same position that I was in, in that they wanted to climb Kilimanjaro but really had not idea how to approach it," he said.
"For some people the time ticks away and their dream just stays a dream, but if I can share my experience of climbing Kilimanjaro and help make other peoples dream come true then it would give me great satisfaction."
It was during a safari holiday in Kenya over ten years ago that the 41-year-old set eyes on the magnificent wonder that is Kilimanjaro.
"The very first time I saw Kilimanjaro was from Kenya. I was completely mesmerised and amazed by the shear beauty of this colossal snow capped mountain," Vijay said.
"I wanted to stand on top of the highest free standing mountain in the world and experience the awesome views. It became a dream I wanted to fulfil."
While setting his sights on the challenge was easy, working his way towards fulfilling that goal would become as hard as the climb itself.
"I tried many attempts to instigate an expedition, but life threw many obstacles in my way."
Vijay admitted his family thought his dream was "crazy" – but when his brother, Bhavesh decided to join the trek, things soon fell into place.
It took the duo nine months to prepare for their Kilimanjaro trek, in which time they talked to climbers who had already experienced the gruelling mountain trek.
In October last year, ready, raring to go and with his brother at his side, Vijay finally took his first dream steps up Kilimanjaro.
Recalling the experience Vijay said: "I remember the night before reaching the summit. I was so exhausted that my body started to shut down and I could hardly keep my eyes open.
"The high altitude was challenging, I made myself believe the mountain went on till infinity and I was going to keep walking until my very last breath. I kept on walking until I heard voices and laughter. I looked up and saw the sign that I had been dreaming of standing next to for many, many years. I had finally arrived, on the roof of Africa.
"I looked around and saw the breathtaking views such as the curvature of the earth, the huge and beautiful glaciers and the clouds beneath me. I then looked at my brother standing next to me who was out of breath, exhausted and coughing viciously.
"I started to recall the nine months of arduous training and support received from him and the six days spent with him laughing and arguing in a tiny cramped tent that had a faulty zip. I realised then, that although my dream of climbing Kilimanjaro had been fulfilled it was only completed by having my brother, Bhavesh standing besides me on the highest free standing mountain in the world."