 Zadia Parveen and Mohammed Shabir lived life of luxury in £1 million fraud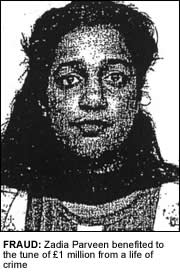 A WEST Midlands couple who benefited to the tune of £1 million from a life of crime have been sentenced.
Zadia Parveen, 41, and her husband Mohammed Shabir, 47, from Sutton Coldfield lived a life of luxury after making a number of false claims.
An investigation by HM Revenue & Customs (HMRC) discovered that the couple had made false claims for tax credits and failed to declare earnings from a taxi business and private tutoring.
Parveen worked as a private tutor but claimed over £100,000 in tax credits over a six year period, between 2002 and 2008. She gave false information about childcare costs, household income and stated she was not living with her husband. 
HMRC investigators discovered that her husband, Shabir, was in fact living with her and had been working as a self employed taxi driver but failed to declare his income paying no taxes for at least fourteen years.
Parveen was sentenced to a two year community order and ordered to carry out 240 hours of unpaid work, while her husband was sentenced to two years and eight months in prison.
Adrian Farley, Assistant Director of Criminal Investigation for HMRC, said: "The couple supported a millionaire lifestyle by stealing a great deal of public money.
"This fraud was motivated by pure greed with no regard for others."
Birmingham Crown Court heard that the couple's crimes allowed them to enjoy a luxurious lifestyle.
In May 2007, Parveen purchased a property for £480,000. Income bonds of £270,000 were traced in Shabir's name along with a further £230,000 in the name of their teenage son. Two of their four children attended fee paying private schools.
These assets which totalled nearly £1 million have been restrained.
Confiscation proceedings have commenced in a bid to return the proceeds of their criminal action to the public purse.