 Thousands break record on World Book Day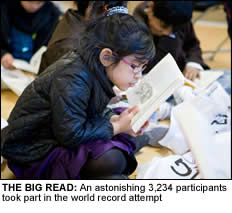 THOUSANDS of London school children helped break a world record – thanks to Roald Dhal's classic story 'Charlieand the Chocolate Factory'.
The much-loved story was chosen as part of the official 'most children reading with an adult' Guinness world record attempt to mark World Book Day.
To beat the record children aged between five and 18 had to read passages from the Roald Dhal book with an adult for half and hour.
And it proved to be a stand-out success with an astonishing 3,234 participants taking part and breaking record.
The previous record of 3,032 was set by The Kindergarten Starters School at Global Village in Dubai, on 12 November 2008.
The event, which took place at the London Muslim Centre in East London, was organised by IF charity, in partnership with Islamic Forum Europe, Muslim Aid, London Muslim Centre and Tower Hamlets Council.  
Politicians and celebrities joined thousands of people, who came from across London to take part in the world record bid including journalist Victoria Brittain, BBC London presenter Asad Ahmed and Hedy Epstein, an 85 year old holocaust survivor.
Former stars from the BBC hit show The Apprentice were also present including, Ghazal Asif, Tre Azzam, Majid Nagra and Syed Ahmed.
"We would like to thank all those who took part and supported the BIG Read. This record really belongs to the whole community, our partners, media partners, trustees, volunteers and supporters without whom this world record not have been possible," said a spokesperson from the charity IF.