 Celebs back monster Fundraising event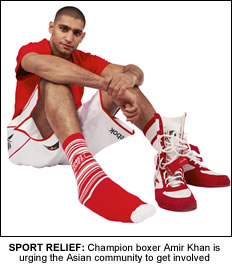 SPORT RELIEF is calling on British Asians to join the likes of champion boxer Amir Khan in 'Rising to the Challenge' for this year's monster fundraising event.
The Sport Relief Weekend takes place from Friday 19th to Sunday 21st March and brings the entire nation together in a bid to get active and raise cash.
Money raised by Sport Relief has helped thousands of Asian people at home and across the world's poorest countries – and this year the charity is calling on Britain's Asian community to put on their running shoes for the Sport Relief Mile.
This year the Sport Relief Mile is bigger and better than ever before with 16 Flagship Miles and hundreds of other Mile events taking place across the UK on Sunday 21st March.
Boxing ace Amir Khan has already signed up, and he's urging everyone else to follow suit.
"Sport Relief will see three jam packed days of fundraising, a night of cracking TV on BBC One and, of course, the Sainsbury's Sport Relief Mile on Sunday," Amir said.
"All together, it promises to be a brilliant weekend. And, the best bit is, all the cash raised will help to transform the lives of those in desperate need across the UK and the world's poorest countries.
"So whether it's the 1, 3 or 6 mile option, why not challenge your family, friends and workmates to get involved with Sport Relief 2010 and sign up today."
Sport Relief has donated over £6million to Pakistani, Indian and Bangladeshi projects since 2008.  
Some of the projects include helping street children in India and Bangladesh who desperately need food, shelter and healthcare. In Pakistan Sport Relief cash is improving conditions for children working in factories.
Closer to home, Sport Relief is supporting Asian community projects such as The Ashram Project in Birmingham, which enables older people to access the support they need to improve their physical wellbeing and helps them feel more included in their community, by running sessions on healthy eating, personal safety and keeping-fit.
Hannah Fox from Sport Relief said: "Money raised by Sport Relief helps support many projects for Asian communities both in the UK and throughout Asia. This year we are calling on people from all over the UK to help raise more money for Sport Relief by getting involved in this year's Sainsbury's Sport Relief Mile."
Coverage from the flagship Mile events across the UK will be shown during The Sport Relief Mile Show on Sunday 21st March on BBC One.