 'Tell us where you buried my sister', says sister of 'honour' victim Tulay Goren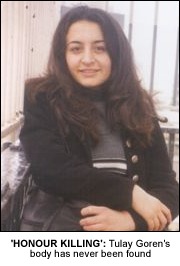 THE sister of a teenager who was murdered by her father over ten years ago in an 'honour killing' have pleaded with him to reveal what he did with her body.
The emotional appeal was made by Nuray Goren following the conviction of her father, Mehmet Goren, who was found guilty at the Old Bailey today of murdering 15-year-old Tulay Goren in 1999.
Despite extensive searches, detectives have never found Tulay's body.
The youngster was reported missing by her boyfriend Halil Unal on 22 January 1999.
Today Tulay's father Mehmet Goren was jailed for life and told he would serve a minimum of 22 years for murdering his daughter.
In a statement, Tulay's sister, Nuray pleaded with her father to reveal what he did with Tulay's body.
"For my father I have only one request. I ask that he finally disclose the whereabouts of my sister," Nuray said.
"I wake up at night wondering where Tulay may be. In quiet moments during the day I ask myself if she suffered or knew what was in store for her.
She added: "Tulay was caught in the middle of two clashing worlds. At home she was expected to be a dutiful Turkish daughter, whilst out of the family home she was exposed to a lifestyle that was completely at odds with her upbringing.
"So much of our tradition and custom stood in the way of what Tulay ultimately wanted."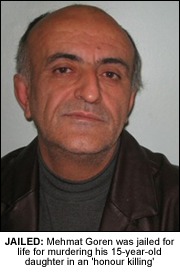 At the Old Bailey today Mehmet was acquitted of conspiring to murder Tulay's boyfriend, Halil Unal.
His brothers – Cuma Goren, 43, and Ali Goren, 56 -were also acquitted of both murder and conspiring to murder Halil.
The Old Bailey was told Mehmet killed his daughter because he disapproved of her relationship with Halil who was 15 years older than Tulay and came from a different Muslim sect than the Gorens.
On two occasions Tulay had left the family home following arguments with her father over Halil.
Towards the end of 1998 the Goren family finally accepted Tulay's relationship with her boyfriend, the Old Bailey heard, and allowed the couple to live together with the understanding that they would marry.
Wedding arrangements were made in December 1998, but abandoned at the registry office, when the registrar realised Tulay was under the legal age to marry.
The Old Bailey heard Tulay returned to the family home on 6 January 1999, after her father and mother visited the couple's address and found another man sharing the property. This was deemed unacceptable.
That night, the family gathered to discuss Tulay's situation. Tulay was pressured to reject her boyfriend and told not to return to him.
On 7 January 1999, Tulay was left alone with her father at the family home – and it was the last time she was seen alive. Police believe this was the day she was murdered by her father.
The Old Bailey heard Mehmet had also summoned Halil to the family home on the day he murdered Tulay, but he never showed after Tulay warned him against it.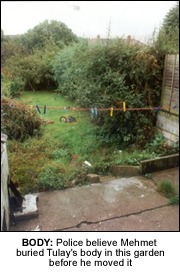 On 20 January, Halil, accompanied by community elders, arranged to meet Mehmet on the promise of an opportunity to speak to Tulay.
The parties met at the Thatched House pub in Leytonstone High Road.
It was here where Mehmet then struck Halil with an axe in the side of his head after luring him away from the group under the premise he could speak with Tulay on the phone.
The court was told Mehmet served three years in jail in 2000 for the attack on Halil.
Two days after the attack Halil filed a missing persons report with Redbridge Police after becoming increasingly worried about Tulay.
Initially police arrested two men and one woman in connection with Tulay's disappearance but they were released with no further action following the submission of case papers to the Crown Prosecution Service.
But the investigation remained open and on 25 November 2008 detectives arrested three men on suspicion of murder and conspiracy to murder, including Tulay's father Mehmet.
Detective Chief Inspector Gerry Campbell, who deals with honour-based crimes, said: "I want to be absolutely clear that there is no honour in the murder of another human being. Where is the honour in the murder of a defenceless child – a 15-year-old girl? "There is no romantic notion of honour in such cases."