 Mohammed Mian jailed for four years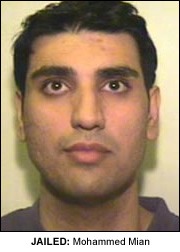 A MAN who ploughed into two people, killing one instantly, before driving off has been jailed.
Mohammed Mian, 31, killed 49-year-old Steve Campbell in the early hours of New Years Day. Mr Campbell's wife, Rosemary was also injured in the hit-and-run on Stretford Road in Urmston, Manchester.  
Today, Mian, of Gredle Close, Urmston, was jailed for four years at Manchester Minshull Street Crown Court. He was also disqualified for driving for five years.
He had pleaded guilty to causing death by dangerous driving at an earlier hearing.
Mr Campbell, died at the scene of the collision, which took place shortly before 1.20am on 1 January 2009 on Stretford Road in Urmston.
A witness told police he saw a red car speed past him at almost 60mph before it struck Mr Campbell and his wife Rosemary.
He told police he did not see the car slow down before the impact, but it did for a few seconds shortly afterwards, only to drive off.

Paramedics rushed to the scene to find Mr Campbell had died. Rosemary was taken to hospital with serious leg injuries.
Shortly after the incident Mian returned to the scene and told police officers he was the driver and he was arrested.
In his first interview, Mian denied speeding, saying he braked heavily and tried to swerve out of the way of the couple, whom he said ran onto the road.

But in his second interview Mian changed his story again and accepted he was driving at between 50 and 60mph.
Speaking after the sentence, Hayley Campbell, the daughter of Stephen and Rosemary said: "No prison sentence will ever compensate for what Mian has done. He has completely destroyed our family and will never know the kind of pain and suffering that we have all had to endure, and will continue to endure for many years to come."
Police Constable Martin Simpson, from Greater Manchester Police added: "This was an awful tragedy. It has been an extremely difficult year for Steve's family. "I am satisfied this would not have happened had Mian stuck to the speed limit. He has rightly been jailed but he will have to live with what he has done for the rest of his life."