 Nadim Kurrimbukus jailed for life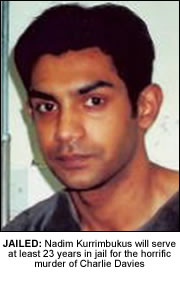 A MAN who set his ex-boyfriend alight following the breakdown of their relationship has been jailed for life.
Nadim Kurrimbukus, 25, was told he will serve at least 23 years in jail for the horrific murder of Charlie Davies.
Mr Davies, 23, was set alight outside his family home in Staines on 14 June 2008.
He died in hospital six days later.
Another man, 27-year-old Yusuf Dulloo, was acquitted of Mr Davies' murder.
Kingston Crown Court was told Kurrimbukus, a student from Hounslow, was consumed with rage after Mr Davies ended their relationship.
On the day of the attack Kurrimbukus went to Mr Davies' home and put superglue in the lock of the front door and waited for his victim to return home from work, the court was told.
When Mr Davies did arrive home he struggled to open the door. Seconds later a hooded Kurrimbukus rushed up behind him, poured petrol over him and set him alight.
As Kurrimbukus raced away from the scene Mr Davies staggered to a nearby driveway where neighbours extinguished the fire.
He was rushed to hospital where he was treated for 90 per cent burns.
He died six days after the attack following renal failure.
After the attack, Kurrimbukus ran down an alleyway adjacent to Mr Davies' home to a waiting car allegedly driven by Dulloo, who, in court, denied all knowledge of what Kurrimbukus had done.
The court was also told Mr Davies and his family had been targeted on three previous occasions prior to the murder attempt.
Mr Davies was attacked and had his bedroom window smashed while petrol was ignited under a car owned by his mother in previous unsolved attacks.
Detective Chief Inspector Mark Preston who helped bring Kurrimbukus to justice said: "Nadim Kurrimbukus launched a hateful vendetta against Charlie Davies after their relationship broke down. This vicious campaign culminated in the horrific attack on 14 June 2008. His actions have cut short a young life and forever deprived Charlie's family of a much-loved son and brother."