 Gordon Ramsey to provide belated birthday gift to popular Indian restaurant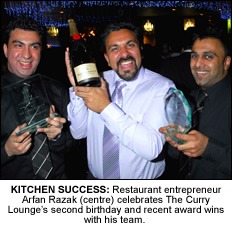 TOP TV chef Gordon Ramsay is to pay a birthday visit to a Nottingham curry house 18 months after it appeared on his hit show Kitchen Nightmares.
The Curry Lounge celebrated its second birthday at the end of last month and has seen a reversal of fortunes since it appeared on Gordon Ramsay's Kitchen Nightmares.
Owner Arfan Razak came in the top five of the Midlands Business Awards' Entrepreneur of the Year category last year, and the restaurant was voted Best Indian Restaurant East Midlands 2008 by the Customer Excellence Awards.
Arfan, who is affectionately called 'Raz' by friends and customers alike, is confident Gordon's return in April will see him proud after such a vast change in how the business has been run since his visit in 2007.
"Initially our menu was far too large and varied." Raz said. "Our first few months in business went very well, and then people just stopped dining at the restaurant.
"After six months, we were approached by Channel 4 and decided to take up the opportunity proposed by the production company responsible for Kitchen Nightmares.
"As a result, Gordon demonstrated that we had to concentrate on producing authentic, home-cooked regional cuisine instead of offering such an extensive menu that included 'create you own curries'."
He added Gordon's presence did create tensions in the kitchen, but "but overall it had a lasting and positive effect".
Gordon will be returning to Nottingham in April to see whether The Curry Lounge has stuck to his advice, in order to see just how Raz is fairing against the plethora of Indian restaurants across the city, especially in the current economic climate.
"I'm looking forward to Gordon's return as I believe he'll see that we've successfully turned the business around on such a dramatic scale, thanks to his advice and industry know-how."