 Sentence increase if money not repaid, says Judge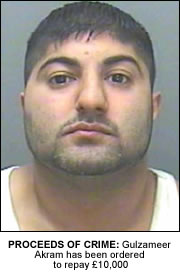 A BLACKBURN man sentenced to three years imprisonment for making counterfeit notes has today been told by a judge he must pay back £10,000 from the proceeds of his crime.
Gulzameer Akram, 29, of Hope Terrace, Blackburn was jailed for a variety of offences under the forgery and counterfeiting act last year.
Akram, who made nearly £15,000 from his criminal activity, has been told he must pay back £9,999.00 within six months or face a default prison sentence of six months and still owe the money on his release.
He pleaded guilty in court last year following his arrest in August 2007.
Akram was caught when police raided a Blackburn property and found a sophisticated set up for the production of counterfeit £20 notes.
A subsequent search of an industrial unit nearby uncovered equipment linked to the packaging at the previous property along with prints of counterfeit £20 notes.
Detective Sgt Kathryn Cussans from Lancashire Constabulary said: "This was a large scale, sophisticated commercial production line including laptops, printers and a press. This activity was purely about financial gain and crime like this is a business for some people and they can't operate without resources and a steady cash flow. Not only is he now in prison, he has also lost any of the profit he made from the crime to begin with."