 Police release picture of car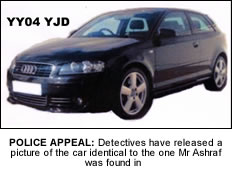 DETECTIVES investigating the murder of a Leicestershire man have released a picture of a car identical to the one in which his body was found.
Twenty-seven-year-old Mubasher Hussain Ashraf, known locally as 'Busha,' from the Hinckley area was found in a black Audi A3 just before 8pm on Sunday September 7.
A post mortem examination revealed Mr Ashraf died from a knife wound.
Detective Superintendent Stuart Prior, who is leading the investigation, said: "It is vitally important that we piece together Mr Ashraf's last movements. 
"I am hoping that the photograph of the car will jog someone's memory.  We know that Mr Ashraf had numerous friends and associates in both the Hinckley and Leicester area.  Did you see a black Audi around the Hinckley or Leicester area sometime over the weekend or did you see it parked in Middlefield Lane? 
"I would also urge anyone who saw Mr Ashraf after 5.30pm on Saturday to contact us as soon as possible.
A statement released by Mr Ashraf's family said they were "distraught and absolutely devastated" over his death.
Anyone with any information is asked to contact Leicestershire Police on (0116) 222 2222 and quote incident 748:7:9 or call Crimestoppers on 0800 555 111.
Related Articles: