 Players "uneasy" over Pakistan, says Ponting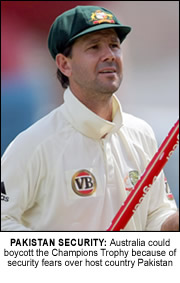 AUSTRALIAN cricket captain Ricky Ponting has given the strongest hint so far that his team could pull out of the Champions Trophy in September because of security fears over Pakistan.
The tournament is set to be staged in the country this September and will feature the top eight top teams in the ICC one-day rankings.
But Australia, who took the unprecedented decision to pull out of a tour of Pakistan earlier this year because of safety fears, could be the tournaments notable absentee after captain Ricky Ponting admitted some of the players were still "uneasy" about travelling to Pakistan.
His comments came despite the ICC giving its full backing to Pakistan saying they were "comfortable" with the situation in the country.
"We don't know if we're going, and if we do go, we don't know if individuals are going to pull out," Ponting told AAP.
"But what we know right now is, yes, there is some apprehension amongst some of the players and that was stated last summer. I don't think that would have changed until now.
"It might change in the coming weeks, if we get some good news from the security reports over there, then the individual's mindset might change a little bit. What happened last summer was probably something that made us all sit back and think about it a little more.
"If Cricket Australia and the players' association decide that we go, then it will be an individual's decision, as every tour is. But there will be some apprehension for sure."
The Aussies aren't the only team to voice concerns over the host country. New Zealand players have reportedly been told they won't be penalised should they decide against travelling to Pakistan for the tournament.
The ICC's acting chief, Dave Richardson has tried to play down fears saying the safety of all players was a prime issue for the ICC.
"The security situation anywhere in the world is very fluid, it can change from time to time," Richardson said.
"At this time we are comfortable with the decision that Pakistan has the ability to host the event and the fact is that we are proceeding with the arrangements."
"There may be some players, organisations and member countries who might express some (security) concerns from time to time," Richardson said. "But what must be remembered is that safety and security of players, teams, officials and spectators is always the concern of the ICC."
Related Articles: