 Four charged with teenagers' murder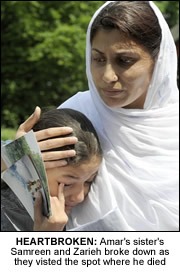 THE FAMILY of Amar Aslam paid tribute to the murdered teenager hours after four people appeared in court charged with his murder.
Seventeen-year-old Amar was savagely beaten and left for dead in Crow Nest Park in Dewsbury, west Yorkshire last Sunday.
He was found by passers by but was pronounced dead by paramedics.
A post mortem revealed he died from head injuries.
Amar's sisters Samreen and Zarieh and his cousin Raja Majid laid flowers in the walled garden in Crow Nest Park in Dewsbury, West Yorkshire, where his body was found.
A statement read out by Mr Majid on behalf of Amar's mother said she was considering leaving Britain because she was so devastated over her son's death.
"My Moon has gone, he has made my life darker forever, he has left me heartbroken," Mrs Aslam added.
Amar's sister Samreen broke down in tears as she described her "special brother".
"Our Moon may have gone and without any doubt he will be missed but will never be forgotten. May he rest in peace in heaven", she said.
"Amar was a loving and special brother. He was the baby of the family, he was very close to his sisters and his mother.
"He was so caring and sensitive, he would always look after us like a mature older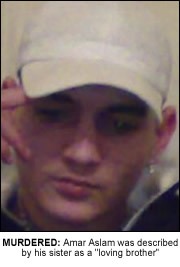 brother.
"Our loving baby brother has gone forever and our lives are painful and meaningless.
"Nothing can replace our brother and we still believe he will walk through the door smiling like he always used to do. It will never be the same without him.'
A 20-year-old man, and three teenagers, all aged 15, appeared in court this morning charged with Amar's murder.
The court clerk revealed Amar was allegedly killed for cash worth just £10, his mobile phone and a silver chain.
The four defendants spoke only to confirm their names and addresses, which cannot be released for legal reasons. No applications for bail were made.