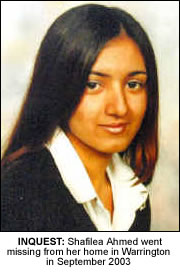 THE FATHER of a Warrington teenager found dead in a river has told an inquest she was not under any pressure to have an arranged marriage.
Shafilea Ahmed disappeared from her home in Warrington in September 2003.
Her badly decomposed body was found by workmen close to the flooded River Kent at Sedgwick, near Kendal, Cumbria, in February 2004.
Her father Iftikhar Ahmed told the inquest at County Hall, Kendal, his daughter had not been sent to Pakistan to get married.
He also denied claims made by his daughter's friends that he stole her money and beat her.
Mr Ahmed, 48, said: "There's no question of her being married. There's no potential suitor. I've never discussed the marriage question between me and the daughter.
"That discussion has never taken place. Where she's heard it from I don't know."
The inquest heard from Shafilea's close friend Melissa Powner who said she had lived in fear of her parents. Months earlier she had been off school for a week and returned with visible injuries on her neck.
Shafilea explained they came from a confrontation with her parents over boys' phone numbers on a phone bill.
Miss Powner said: "She didn't have much of a life – she wasn't able to be with her friends and socialise outside school."
She said that as they were walking to school one morning, Mr Ahmed saw them and pulled Shafilea into his car. Miss Powner said: "He shoved me out the way and said 'Keep out of it'."
In a personal statement written by the schoolgirl, as part of an effort to apply for accommodation away from her parents' home, Miss Ahmed said: "I had saved £2,000 which they took out of my bank account.
"My parents are going to send me to Pakistan and I'll be married to someone and left there.
"There had been a build-up of violence towards me, and my mother told me I was about to go to Pakistan for an arranged marriage.
"My mother had started to pack and my parents had been in to school to inform them we were going to Pakistan."
When she returned in the summer of 2003 she needed weeks of hospital treatment after apparently swallowing bleach in protest at a planned marriage.
The hearing continues.
Related Articles: