 Saqlain Mushtaq ponders international switch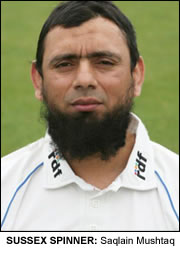 PAKISTAN spinner Saqlain Mushtaq said he is keeping his options open after reports suggested he could swap allegiance and play for England.
The 30-year-old was a regular in the Pakistan squad before a persistent knee injury threatened his career. He is now playing for county cricket side Sussex and recently took four wickets in their match against India.
Now after marrying a British citizen and gaining a British passport there is a strong possibility he could put himself forward for his adopted country.
Speaking to Reuters he said playing for England would be an "exciting prospect".
"It's an exciting prospect to know I might also get a chance to play for England. But it is an option I will think about only after a successful comeback this season," he told Reuters. "There are many people who feel I should try to play for England and are pushing me to go for it. I am only 30.
"But I am first concentrating on completing a good season without any more fitness problems. Let me first complete the season properly, then see who is more keen to play me and consider the best option. But playing for Pakistan has always been an honour for me."
He said his recent display against India at Hove made him think about his international career.
"It made me realise I am not finished as an international player yet," he said. "It now depends how desperate I am for the big comeback."
Whether that comeback will be for the red, blue and white of England is still an uncertainty. He still needs to complete his four-year qualification period, which he will do in April next year, before he can consider switching his allegiance to England.
Mushtaq also hit out at the Pakistan cricket board saying they did not offer any moral support during his turbulent injury.
"It hurts that no one bothered to just call me or ask me how I was doing. It was as if I didn't exist. I didn't care about them footing my medical bills but the moral support was never there," said Saqlain, who took 288 wickets in 169 one-day internationals for Pakistan.