 I've been made a scapegoat, says Asian star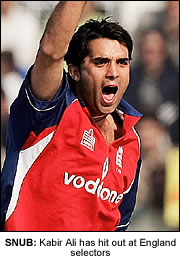 WORCESTERSHIRE paceman Kabir Ali has lashed out at England selectors after he was left out of a 30-man squad for the World Twenty20 in September.
The 26-year-old does not feature in new England coach Peter Moores' squad and believes he has been made a scapegoat for the team's failures.
He said despite proving his worth as an England player he has never been given the same chance as other players.
Kabir said: "If the squad was picked on merit, I should have been in a long time ago. I tick all the boxes, I can bowl, bat and field and I've shown England that.
"Okay, I had a couple of bad games against Sri Lanka in the one-day series last summer but I was hardly the only one.
"Other people had worse figures than myself but it seems I'm the guy who gets the blame when England lose.
"If I hadn't done well in the past, I could understand it. But every time they give me a chance, I do well. I took five wickets as a 22-year-old in my first Test but they've never picked me again.
"I came back from South Africa as the leading wicket-taker in the one-dayers a couple of years ago and then they dropped me for the next game!"
But Kabir said he had not given up hope and would work hard to regain his place.
"If they told me what I needed to do for things to change then I might understand but I've heard nothing. I don't know where to go or what to do.
"Perhaps it is the club I play for. Or perhaps I don't fit in for some reason. But I seem to be the one that gets kicked out when anything goes wrong.
"All I can do is keep performing and hope I can embarrass the selectors."