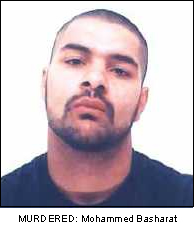 THE FAMILY of a father-of-two gunned down in his shop in Birmingham have urged the local community to unite as detectives step up the hunt for his killers.
Mohammed Basharat, 24, was attacked at his shop on Villa Road, Lozells on the evening of November 29.
He was rushed to Heartlands Hospital but died later from head and neck injuries.
Mr Basharat's cousin Tariq Rashid described him as "respected family man" and "loving husband and father".
In a statement released by West Midlands Police, Mr Rashid said: "Mohammed Basharat was a respected family man, loving husband and father of young children.
"He was a young entrepreneur who dedicated his life to running a business. He started at 4 in the morning, often not finishing until 10 at night, while also doing a college course in motor mechanics. This just shows how hard working and dedicated he was."
"He worked and socialised with all communities in Lozells, holding barbeques where everyone was welcome. His shop had customers from across the community – he was a multi-cultural businessman.
"We don't know why this terrible thing happened to him – he was simply a hardworking and respected trader going about his business.
"This is a time when all communities need to stay united and help each other, for the sake of our children, our brothers and sisters, mothers and fathers."
Detectives investigating Mr Basharat's murder have revealed they are looking for two men who were seen running away from Mr Basharat's shop.
The two, believed to be black men, were wearing dark clothing with their faces covered.
Det Supt Mike Treble, who is leading the investigation, said he wanted to reassure local people that police were continuing to do everything they could to progress the inquiry.
"The vast majority of local people are law abiding, responsible members of the community. They know as we do that this violent crime was committed by a very small number of individuals", he said.
He also said he was keen to hear from anyone who may have information as to why Mr Basharat was targeted.
"We are appealing particularly to anyone who may know of any potential motive which led to Mohammed losing his life. There are people in the community who know who is responsible for this crime", he said.
"Certain individuals may be scared to come forward but we would urge them to speak to the police or speak to a friend who can then speak to us. We would like to thank members of the community for their help and the information that has come in so far.
"This is a tragic incident and we are committed to bringing people to justice. These actions do not reflect the people of Handsworth and Lozells."
Mr Basharat's murder is the latest in a spate of bloody attacks in the city. His death came just weeks after a 20-year-old man was shot and killed as he celebrated his birthday with friends.
Detectives leading the investigation into the murder of Meshack Tesfa Bernard believe he was the innocent victim of a revenge attack and are linking his murder with two other stabbings which took place earlier the same day.
About half an hour before the fatal shooting of Mr Bernard two Asian men were attacked, one with a machete and the other was stabbed in the groin.
But Det Insp Treble dismissed suggestions the two murders could be linked, urging residents not to "jump to conclusions".
"We would ask that local people do no listen to rumour or innuendo and not jump to conclusions; at this stage there is nothing to link this investigation to the fatal shooting in Newtown a few weeks ago", he said.
Anthony Reid, from Increase the Peace UK added: "We also send our condolences to Mohammed's family, this is a deep loss for the family and all the community. He was well-known and this will have a wide impact on people in the area."
Anyone with information is urged to contact the incident room on 0845 113 5000, Crimestoppers on 0800 555 111 or text on 64321.