 Pak star breaks 30 year record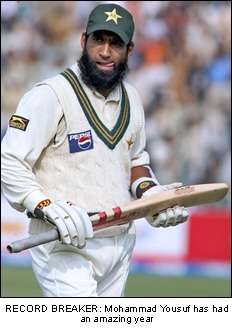 MOHAMMAD YOUSUF was the star for Pakistan in their series win over the West Indies after smashing his way past Viv Richard's 30-year-old record for the most runs scored in a calendar year.
The amazing fete came on the fourth day of the third test between the two teams in Karachi.
Yousuf, who has been one of Pakistan's most reliable batsmen over the past 12 months, needed just 48 runs to by-pass Sir Viv Richard's 30 year record of 1710 runs in a year.
Australian captain Ricky Ponting is the only other player to come close to the record – scoring 1544 runs in 2005.
Speaking to reporters hours after breaking the record, Yousuf said: "God has helped me break this record and I am extremely happy and proud for my country because whenever the record is discussed now, it will be with the name of a Pakistani batsman."
Yousuf started the year with a 199-ball 173 against India in Lahore and ended it with a record eight centuries.
Brian Lara, himself no stranger to records, described Yousuf as the perfect role model.
"He is a very committed player and an excellent role model, not just for Pakistan but for young cricketers everywhere", he said.
"He's had an amazing year."
Pakistan coach Bob Woolmer also heaped praise on his batsman. "It is a marvellous achievement", he said.