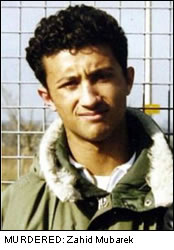 THE FAMILY of an Asian teenager brutally killed by his racist cellmate in a young offenders' institution have slammed the Home Office after they were offered just £25,000 in compensation.
A spokesperson for 19-year-old Zahid Mubarek's family described the sum as "appalling", "miserly" and "paltry", the Press association have reported.
Teenager Zahid Mubarek was viciously bludgeoned to death by Robert Stewart a known racist at Feltham Young Offenders' Institution in west London six years ago.
A public inquiry into his death earlier this year concluded that the teenager's death could have been avoided. The inquiry reported that 186 individual and "systemic" failures led to the young man's murder.
In 2001, the Home Office offered £20,000 in compensation, but have now raised the final settlement offer to £25,000 to reflect inflation, Channel 4 News reported.
Family spokesman Suresh Grover said the sum was "an appalling, miserly, paltry sum".
"It is a slap in the family's face. This family has fought for justice for six years, they've lost someone in a murder that was entirely preventable, there was an admission of liability by the director general of prisons literally days after Zahid was murdered," he said.
He added the sum raised questions on how much the Home Office valued Mr Mubarek's life.
"In this case it was the institutional racism of the prison service that allowed this murder to take place.
"There's got to be a figure on this," Mr Grover said.
"I think the family being treated in this manner brings into question whether the Home Office really think that Zahid's life was worth saving".