 Detectives investigating the murder of special constable four months ago have revealed they have found the murder weapon.
29-year-old Nisha Patel-Nasri was fatally stabbed outside her Wembley home after investigating a disturbance.
She is believed to have taken a John Lewis "Evolution" cook's knife with her after venturing outside.
Police had been unable to locate the knife, until now.
While refusing to reveal where the knife was located, detectives said it was a vital piece in catching Mrs Patel-Nasri's killer.
Forensic examinations of the knife have revealed vital evidence – the DNA profile of her suspected killer, which detectives hope will lead to a breakthrough in the hunt for the man responsible for her murder.
Officers have also released CCTV stills of a suspicious car seen close to Mrs Patel-Nasri's home just before and after the stabbing which they believe was directly involved in the crime.
Detectives believe that together with the car seen acting suspiciously close to the murder scene, they have the basic elements of the evidence in the case.
The suspect car is a light grey-coloured Audi A4 saloon. It was seen acting suspiciously close to Mrs Patel-Nasri's home around an hour before her murder and then again two to three minutes afterwards.
Detective Superintendent Julian Worker said the nature of its suspicious behaviour led him to believe that it was "directly involved" in the offence.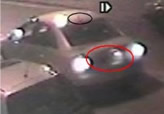 The Audi police wish to trace

Detective Superintendent Julian Worker, leading the investigation, said: "This is a very significant development. This gives us the means to eliminate the killer if names are put forward to us.
"The investigation is very much active now. Since May, detectives have been following up numerous lines of inquiry and viewing hours of CCTV. This hard work has brought about today's new appeals.

"I am convinced there is at least one person who knows the identity of the killer and I would say to them that no friendship or family loyalty should prevent you from coming forward, if necessary anonymously. We have the means now to ensure that of any names given to us, we can be sure through DNA that we get the right person."
Mr Worker also appealed for anyone who recognised the car to get in touch.
Details of the breakthrough are to be revealed on BBC's Crimewatch programme tonight.